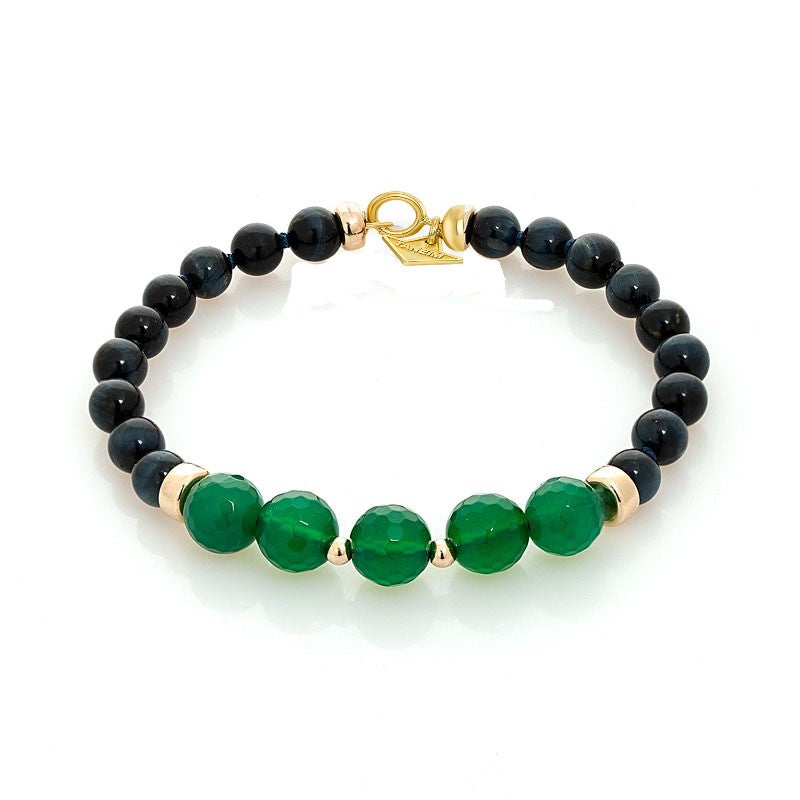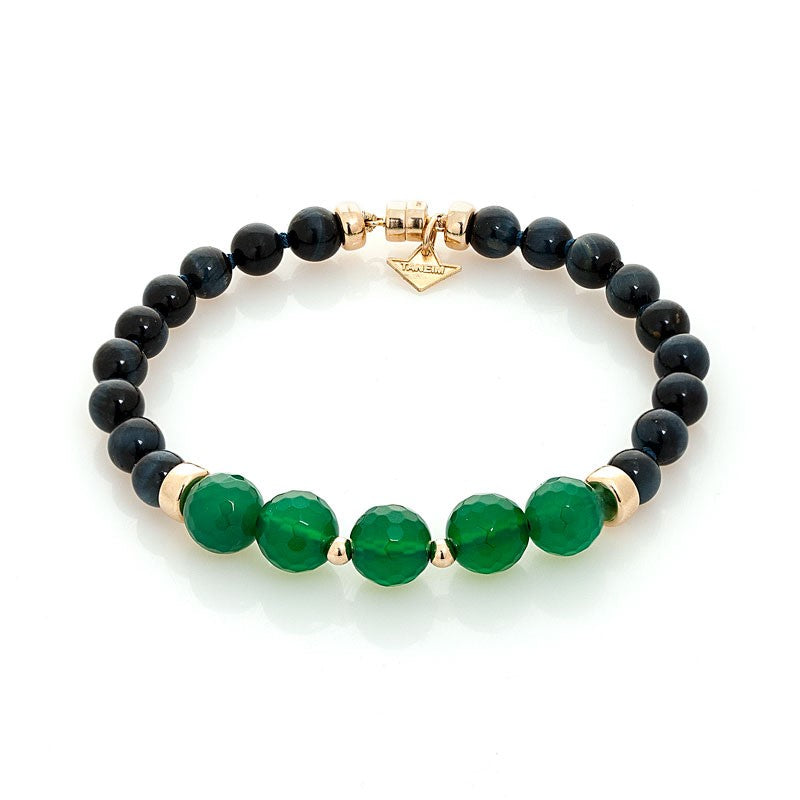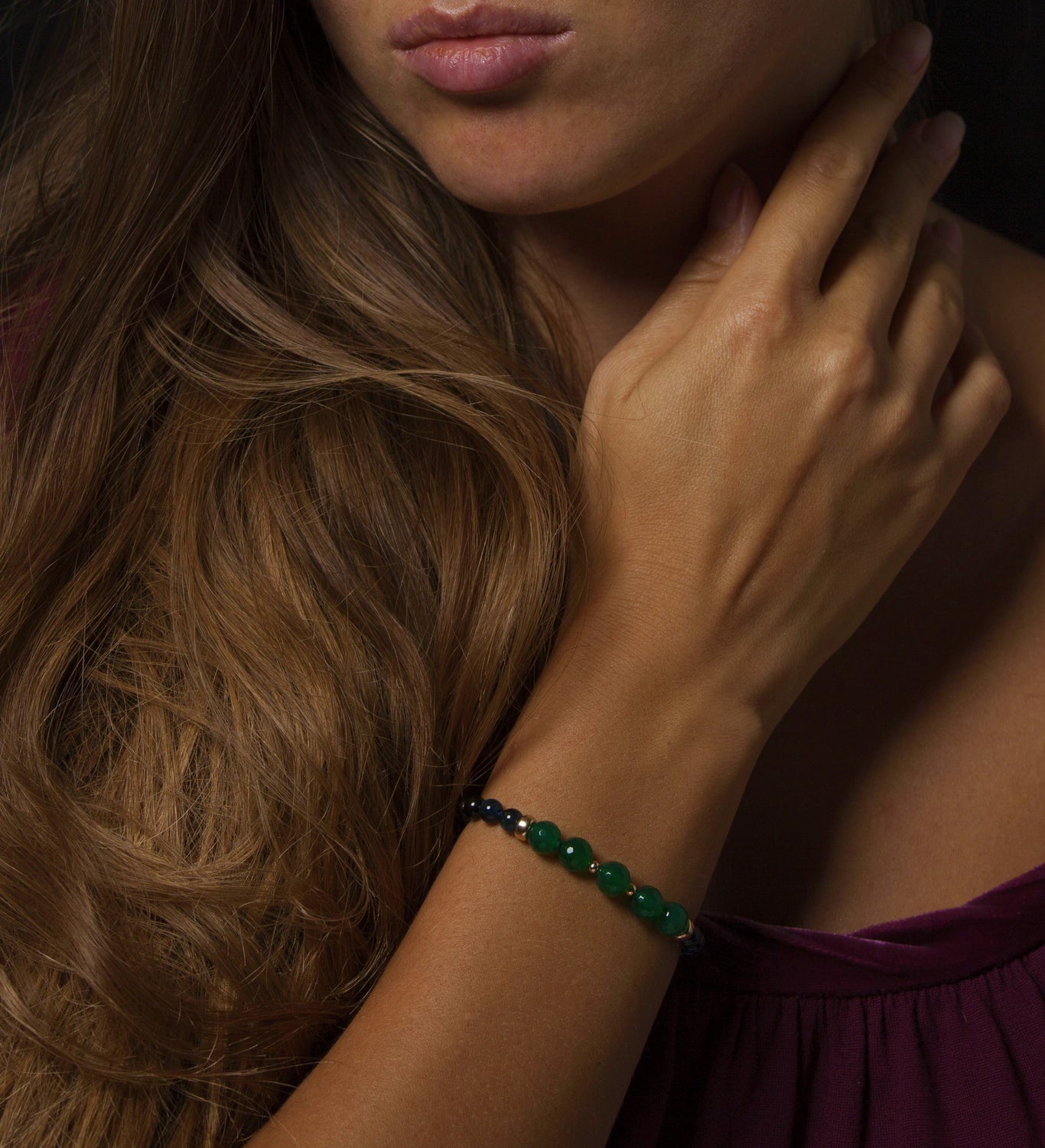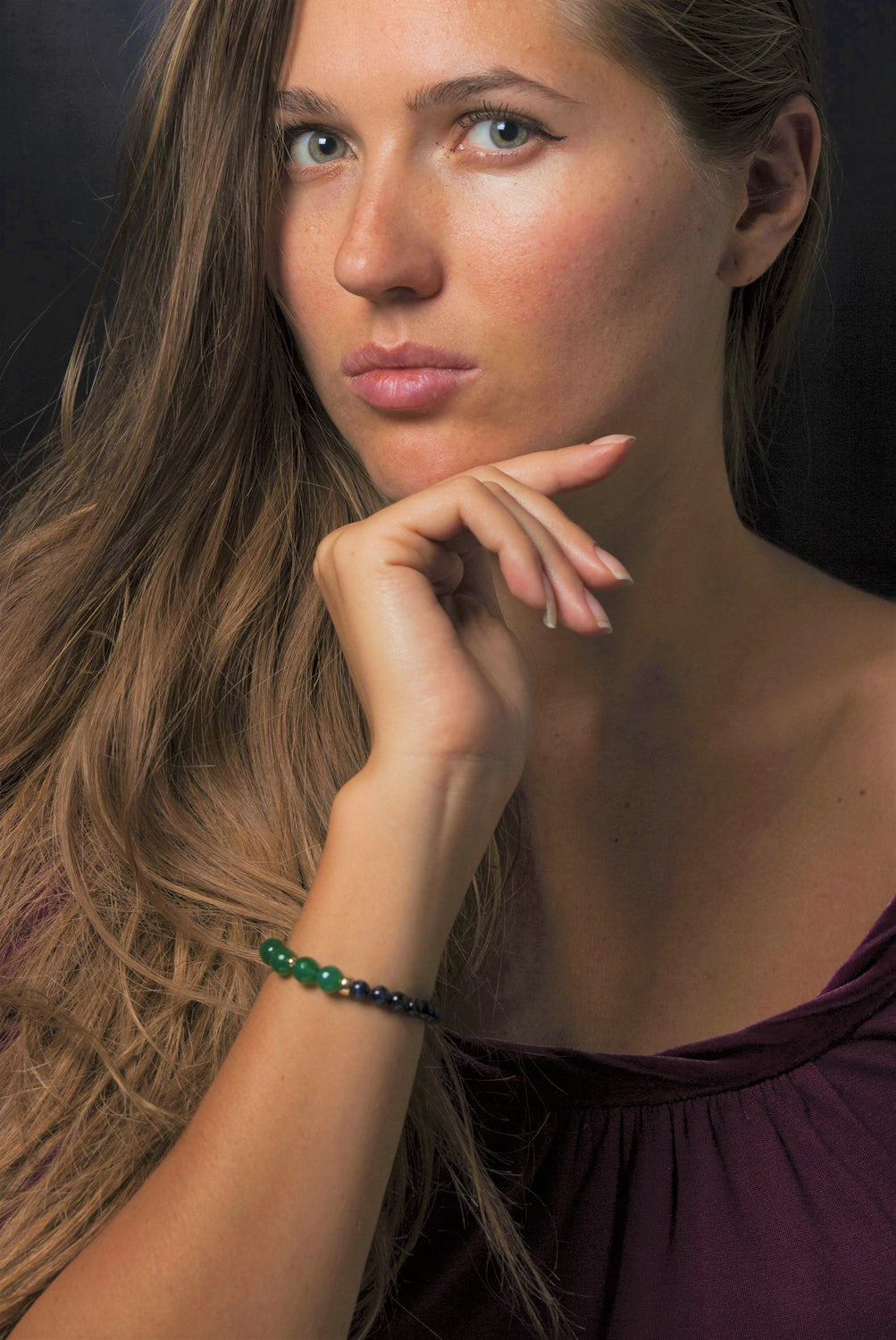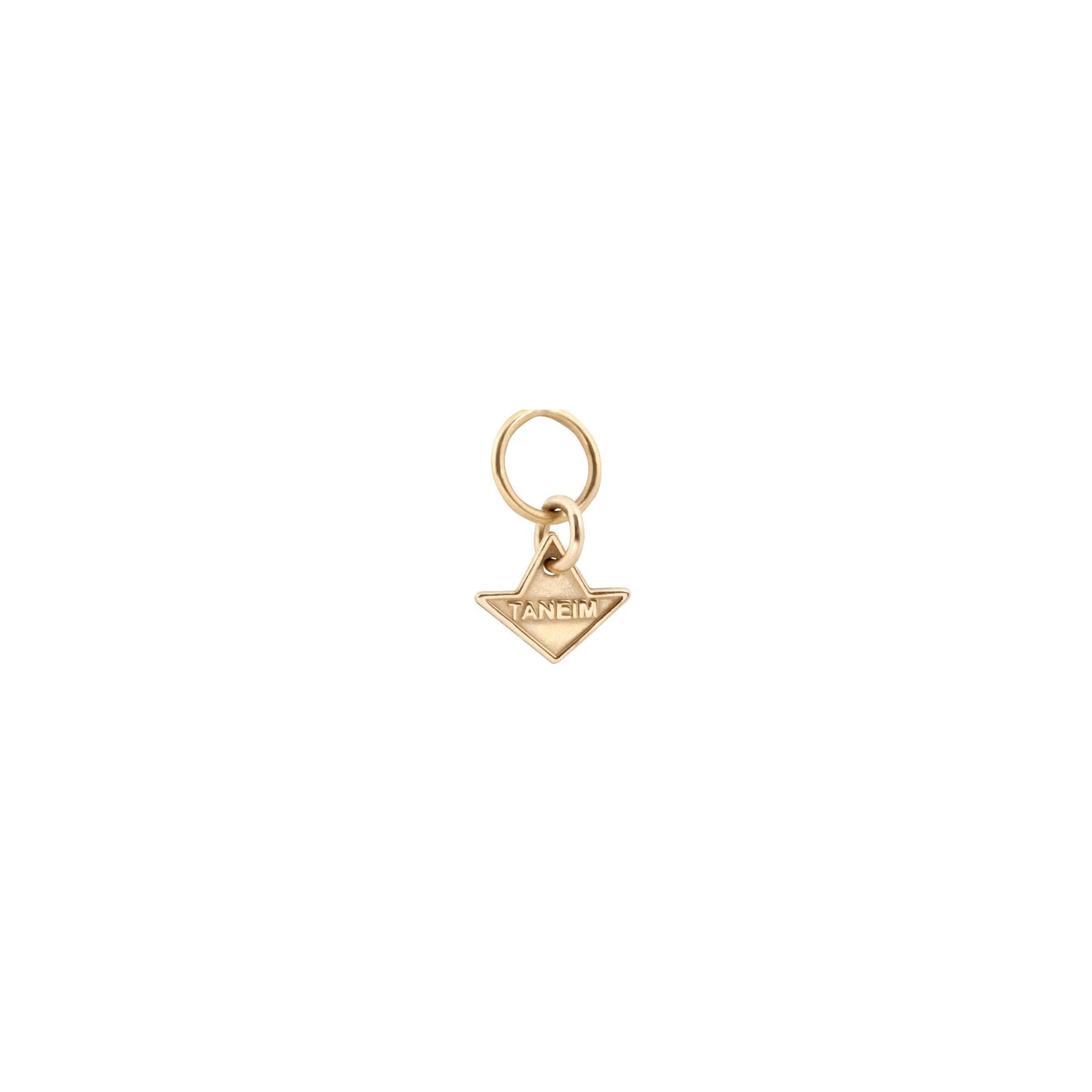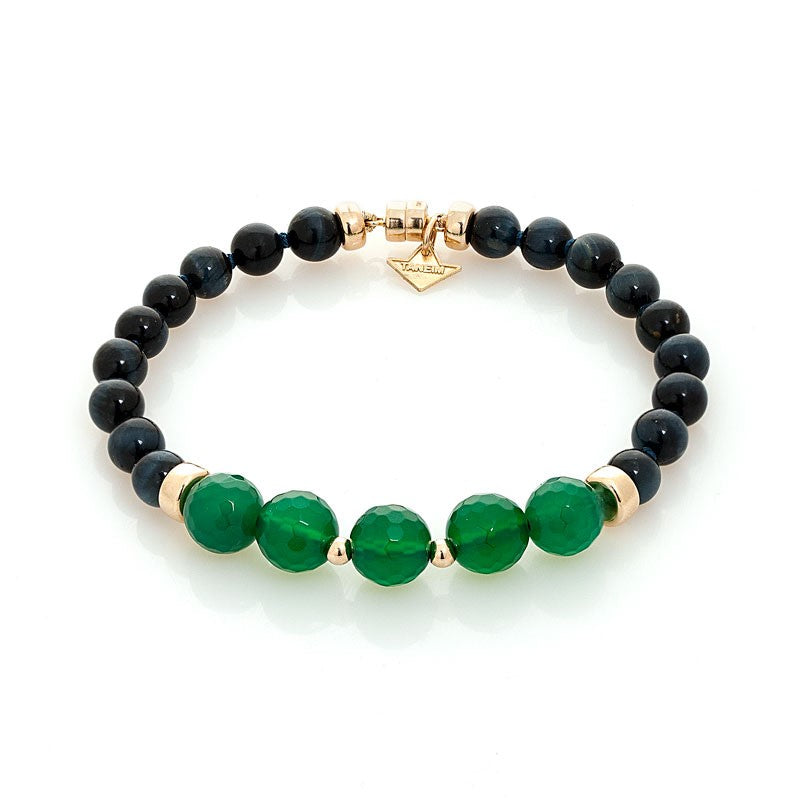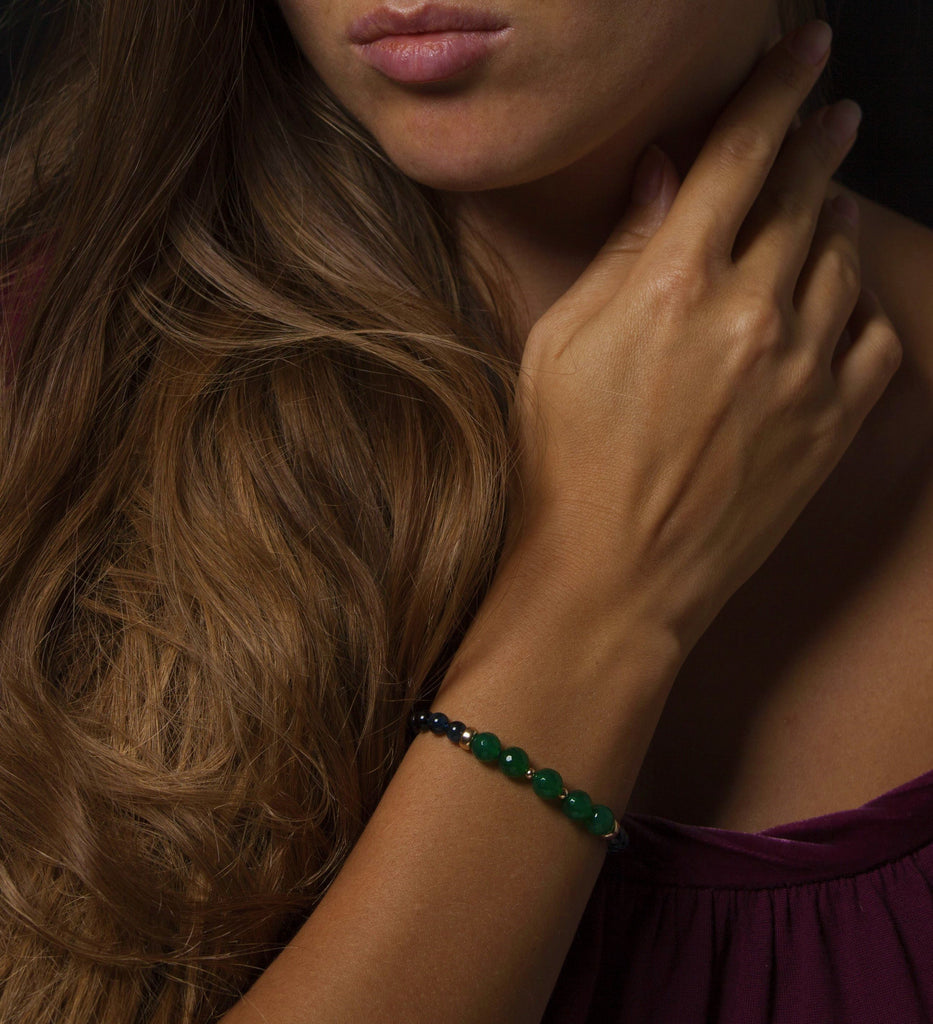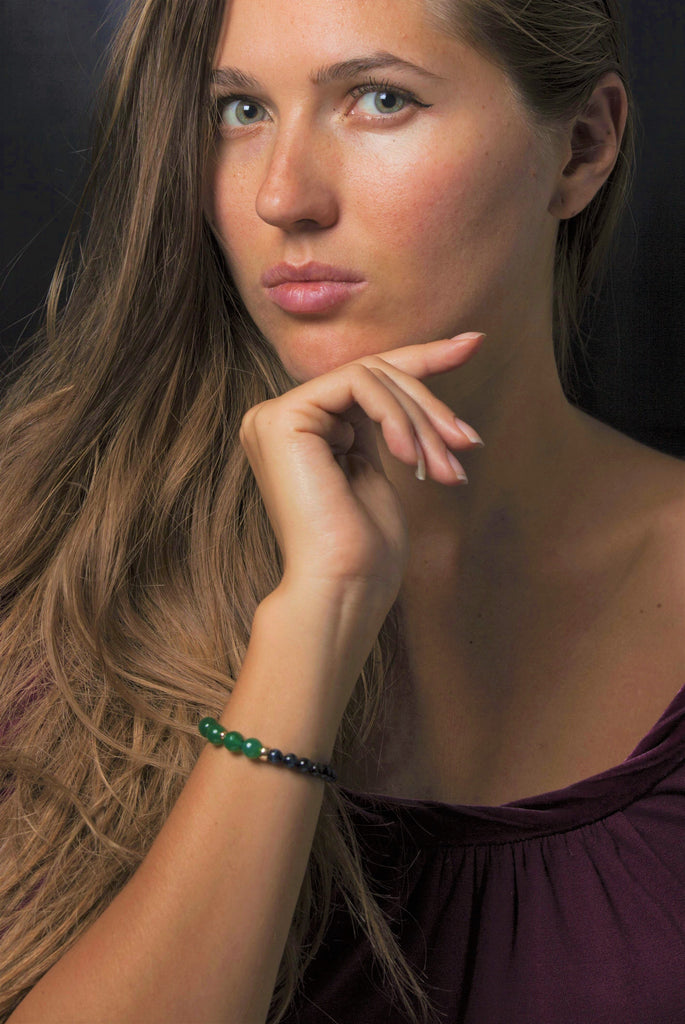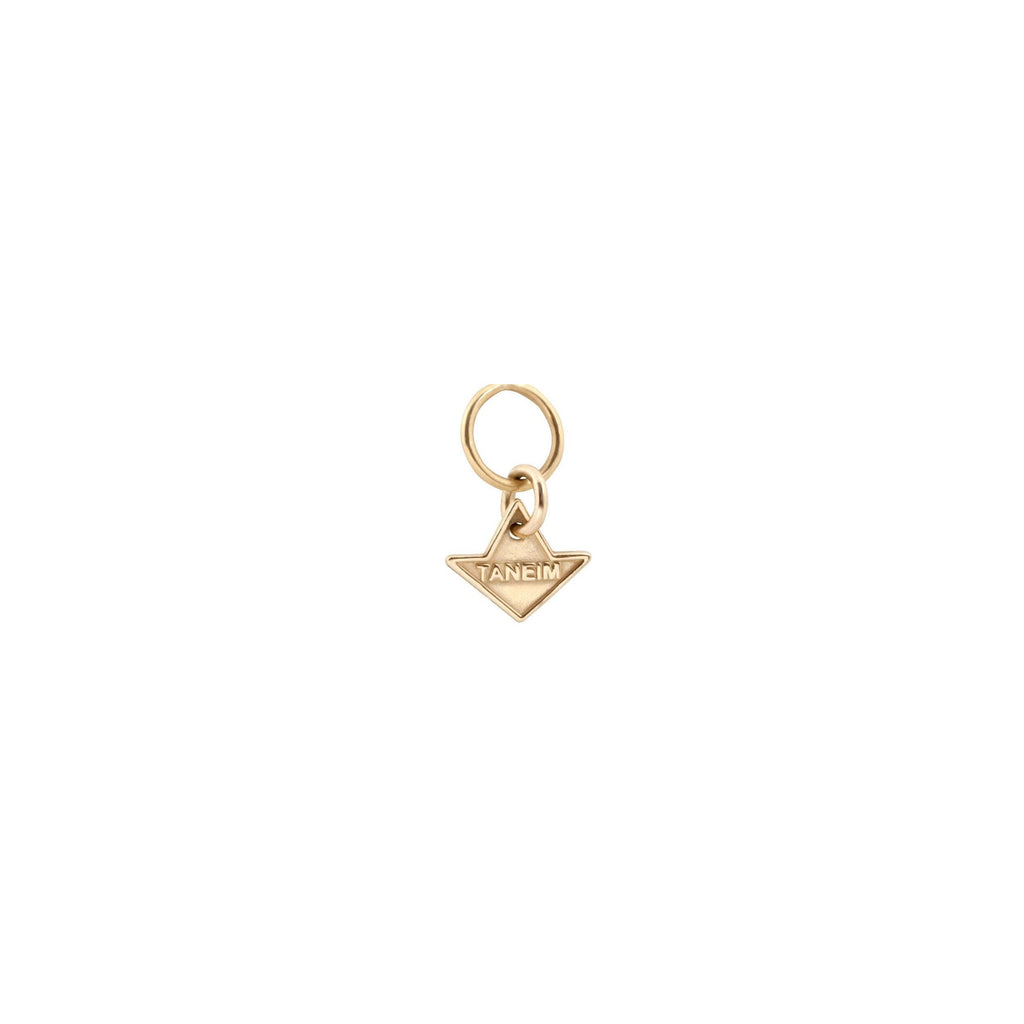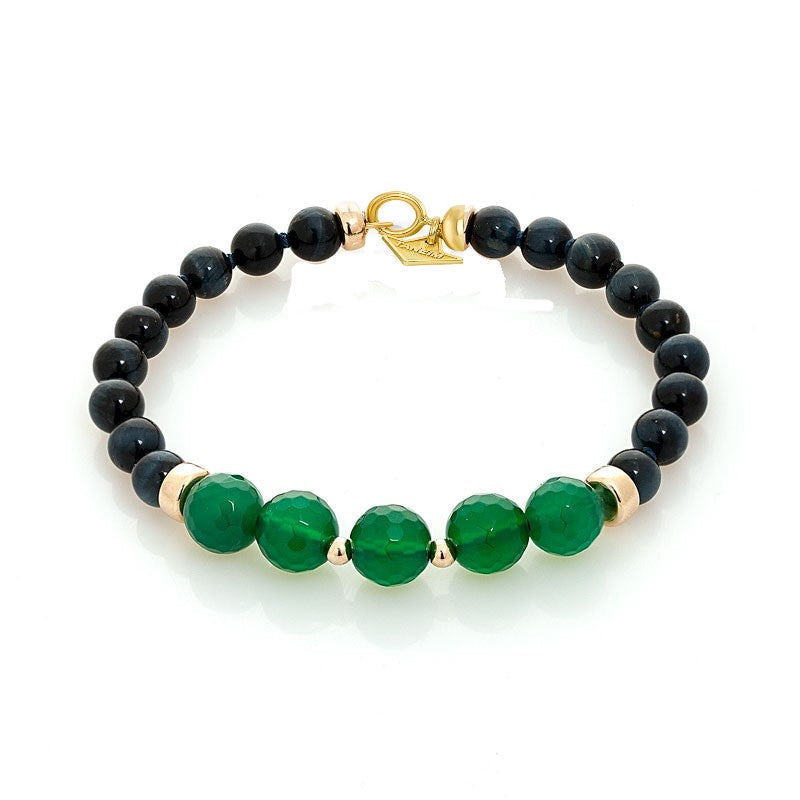 On Sale
14K & 18K YELLOW GOLD BEADED GEM BRACELET - THE TOUCH
"THE TOUCH" it's tender touch on your hand by Green Agate and Tiger Eye. There are five bracelets in the collection. This collection it is unique colors and gem sizes combination made with 14k yellow gold . 
Bracelet The Touch "Green on Eye" 
. 
Gemstones: (5) green Agates (18) Tiger eye

Gem Shape: Round facet

Carat T.W. Gemstones: 42,00

Metal: 14k yellow gold 

Professional handmade 

Gift Packaging 
ID Document
Natural Gemstones
Some kinds of gemstones could be heated (OR) treated

Made with Taneim Star
 Each Taneim Star is Numbered and comes with the Special Register Card
TIGER EYE
Tiger Eye Healing Properties
Protection
Clear thinking
Personal empowerment
Integrity
Willpower
Practicality
Grounding
Power
Courage
Grace
Tiger Eye, also known as Tigers Eye, is a variety of Chalcedony.  Tiger Eye is an 18th Anniversary gemstone.

Typical colors - golden-brown, blue, red
A stone of protection, Tiger Eye may also bring good luck to the wearer.  It has the power to focus the mind, promoting mental clarity, assisting us to resolve problems objectively and unclouded by emotions.  Particularly useful for healing psychosomatic illnesses, dispelling fear and anxiety.  Useful for recognizing one's own needs in relation to the needs of others.  Balancing yin-yang and energizing the emotional body, Tiger Eye stabilizes mood swings, imbues us with willpower, purpose, courage and self-confidence, and releases tension.
Tiger Eye treats eyes, throat and reproductive organs, releases toxins, alleviates pain and is helpful in repairing broken bones and strengthening the alignment of the spinal column.
In addition to the generic healing properties of Tiger Eye, specific colors have additional attributes:
Blue Tiger Eye
Blue Tiger Eye is calming and releases stress.  It aids the quick-tempered, overanxious and phobic.  Slows the metabolism, cools an overactive sex drive and dissolves sexual frustrations.
Agate
Chemical Composition SiO2 
Agate Healing Properties
Love
Abundance
Wealth
Good luck
Longevity
Acceptance
Courage and strength
Protection, security and safety
Balance
Harmony
Generosity
 Appreciation of nature
A natural form of silicon dioxide, Agate is a variety of Chalcedony.
 Effects all chakras, depends of color

Typical colors - Clear or milky white, white to grey, light blue, orange to red, black
Agate is an excellent stone for re-balancing and harmonizing body, mind and spirit.  It cleanses and stabilizes the aura, eliminating and transforming negativity.  Agate enhances mental function, improving concentration, perception and analytical abilities.  It soothes and calms, healing inner anger or tension and creates a sense of security and safety.
Agate heals the eyes, stomach and uterus; cleanses the lymphatic system and the pancreas; strengthens blood vessels and heals skin disorders.
In addition to the generic healing properties of Agate, specific colors and types have additional attributes: