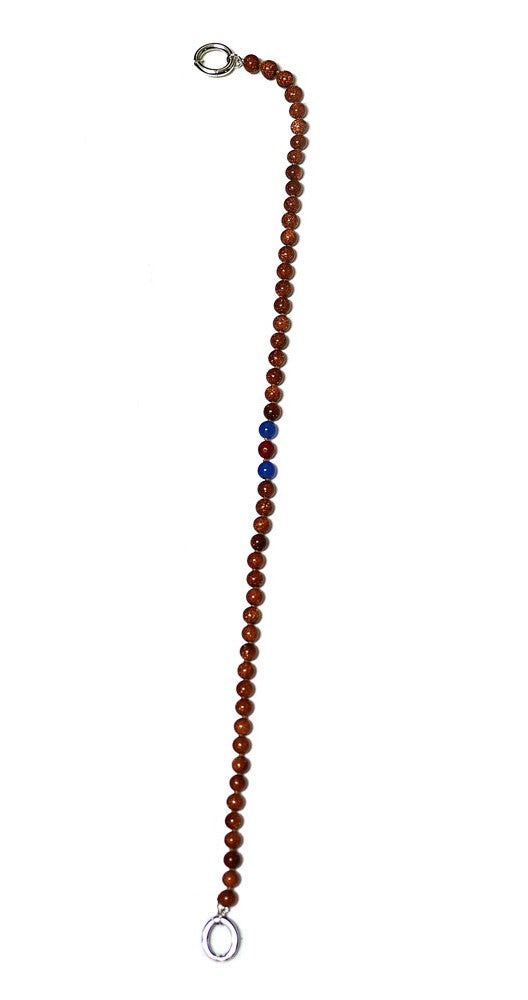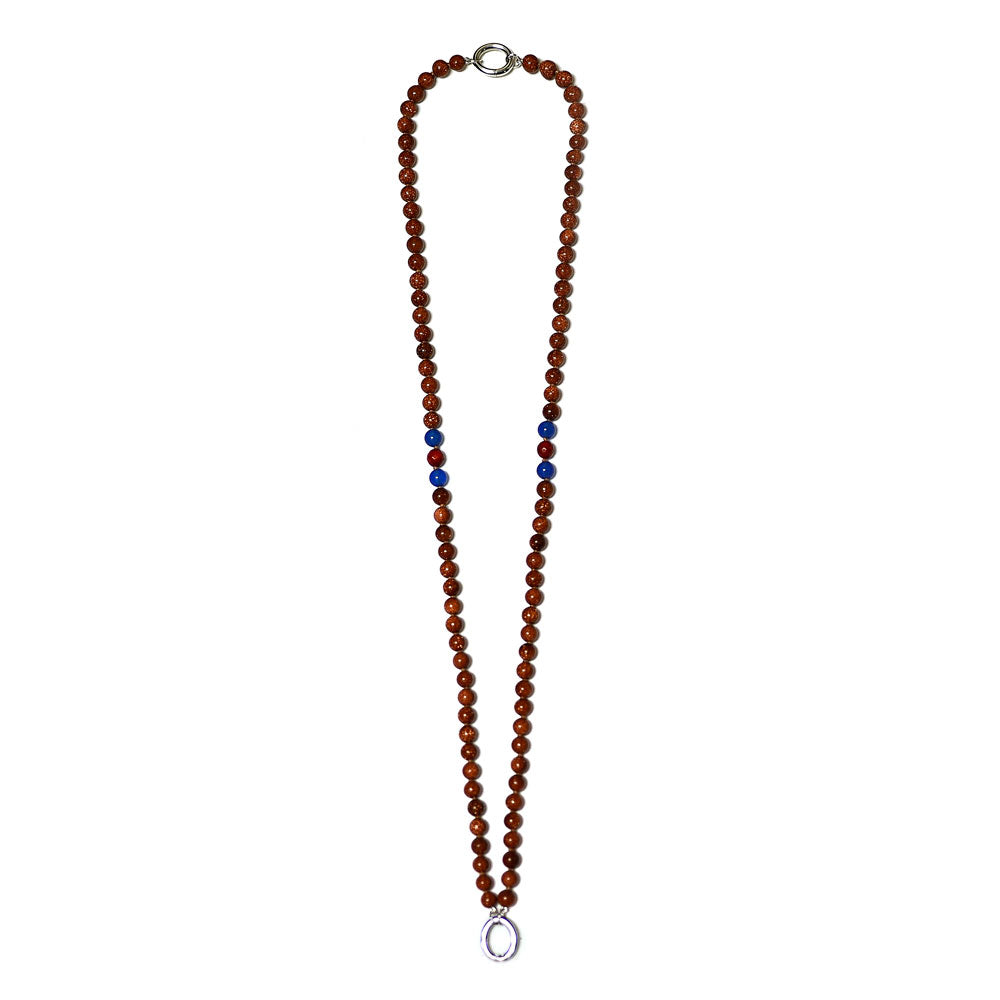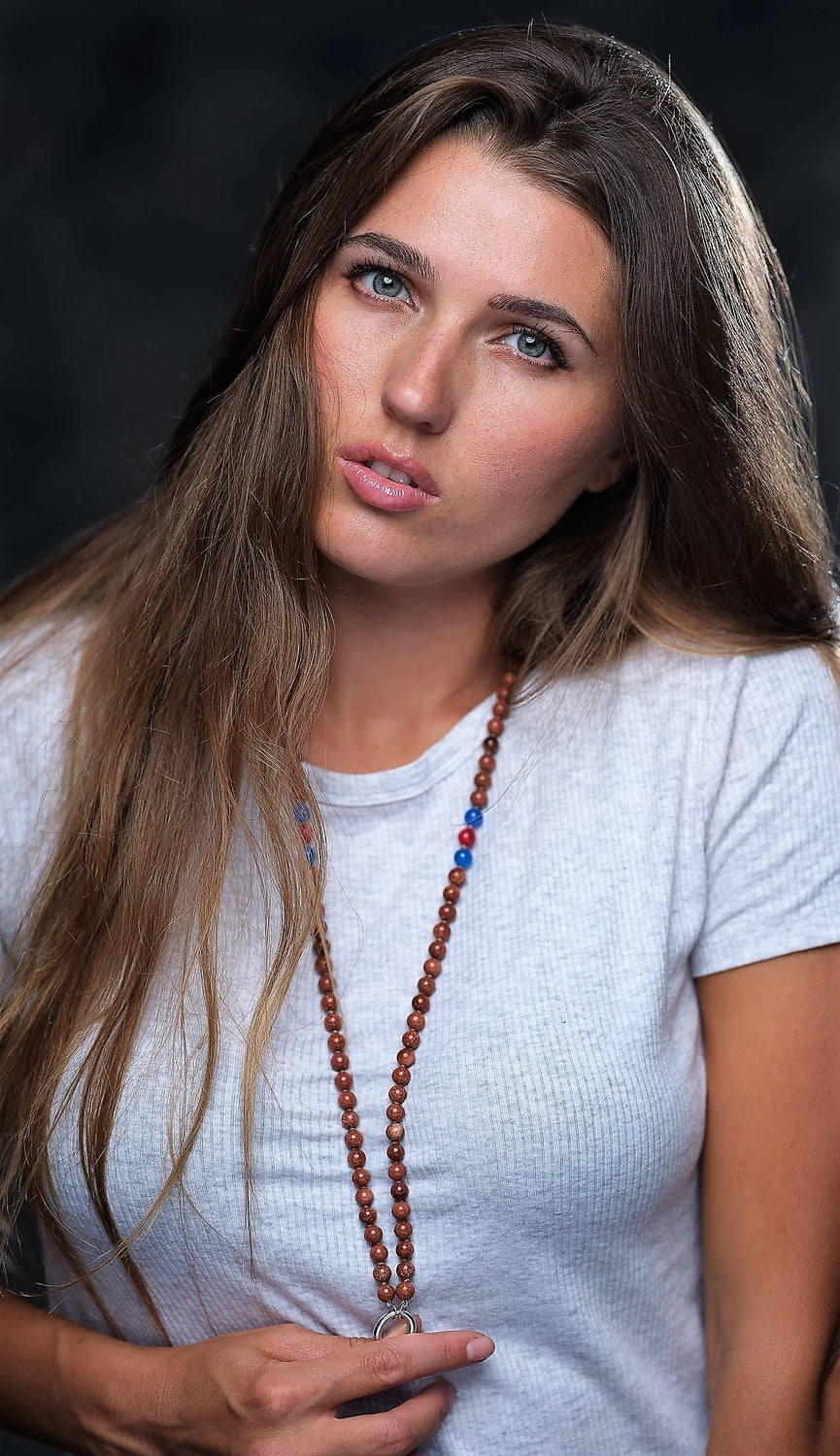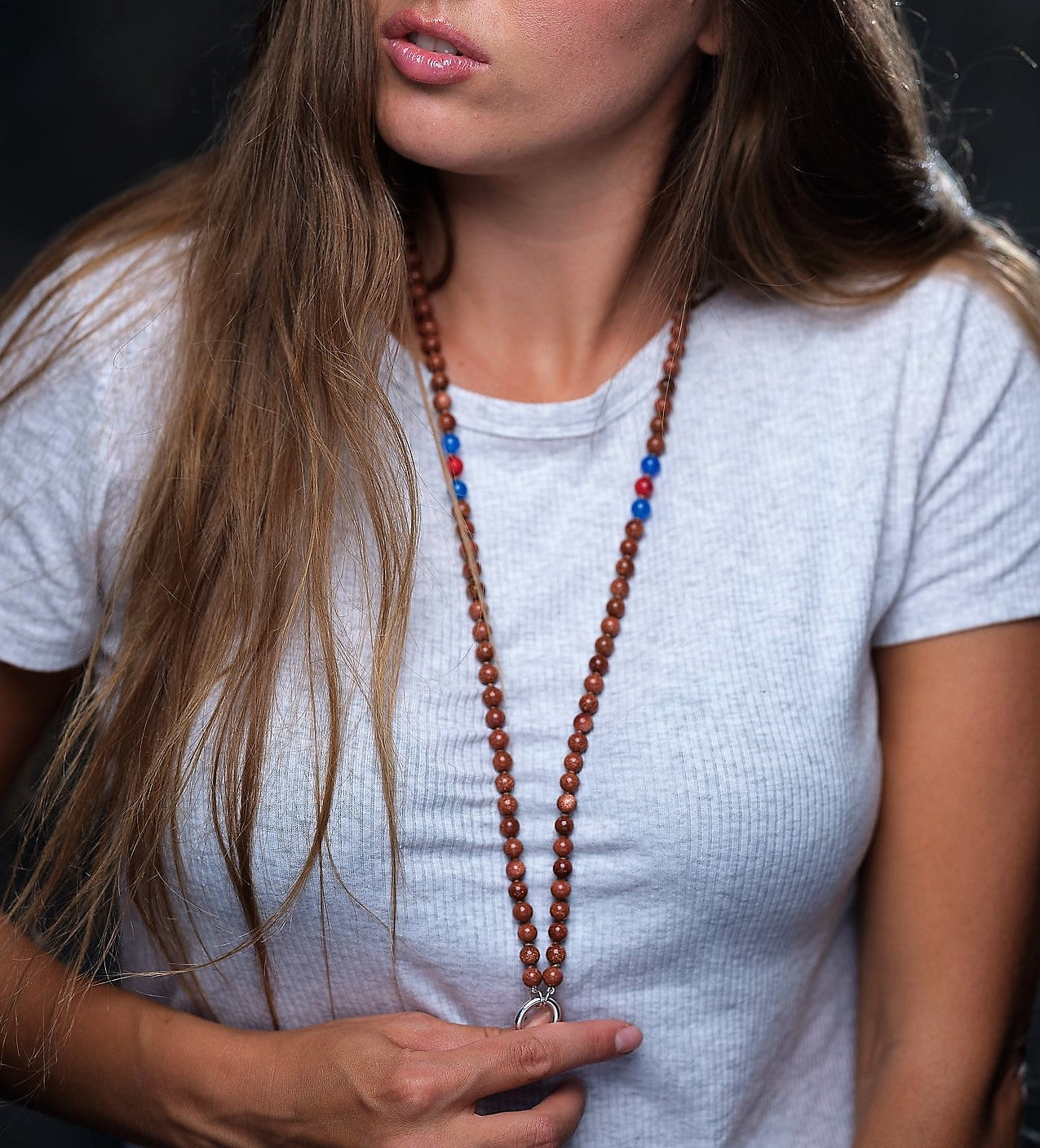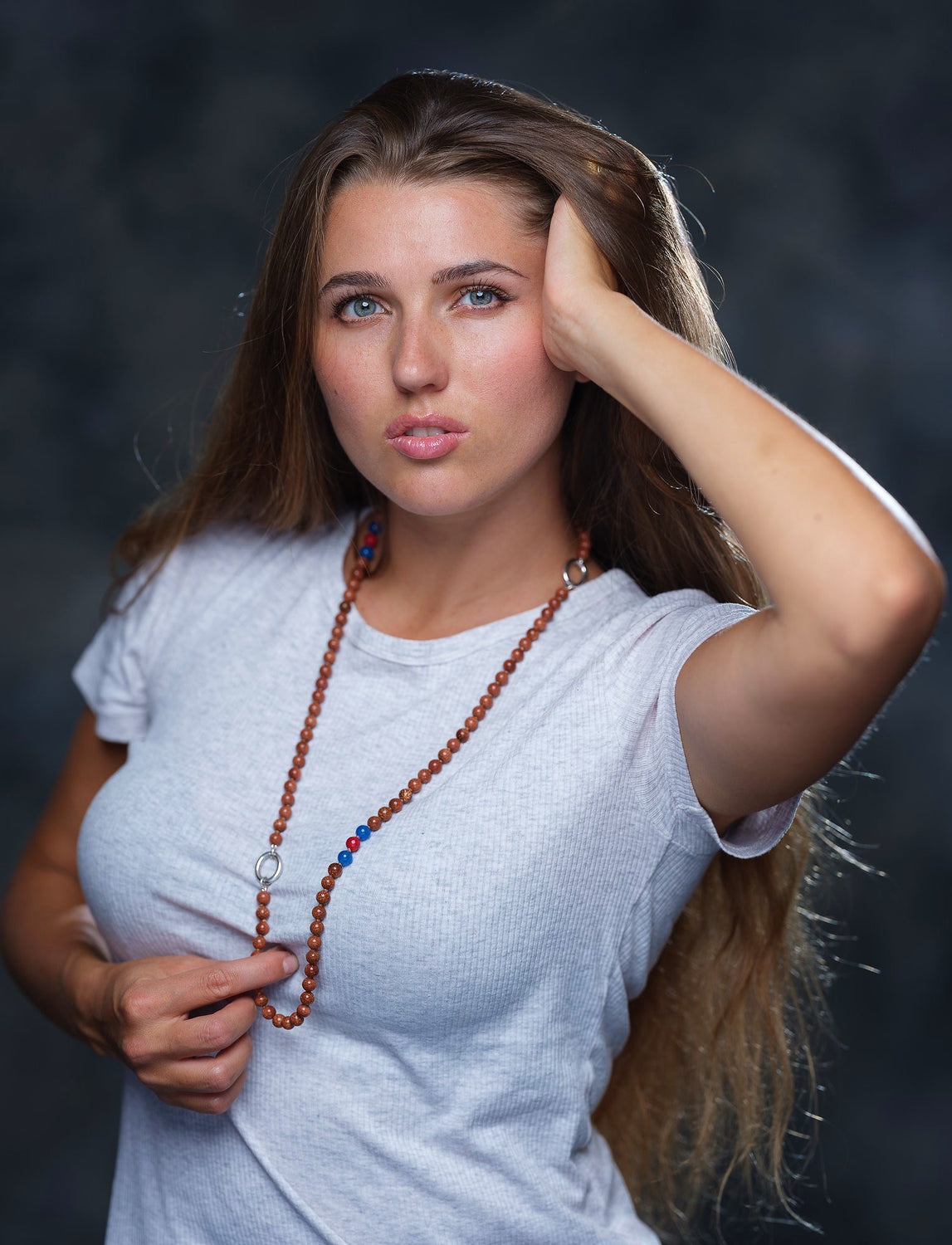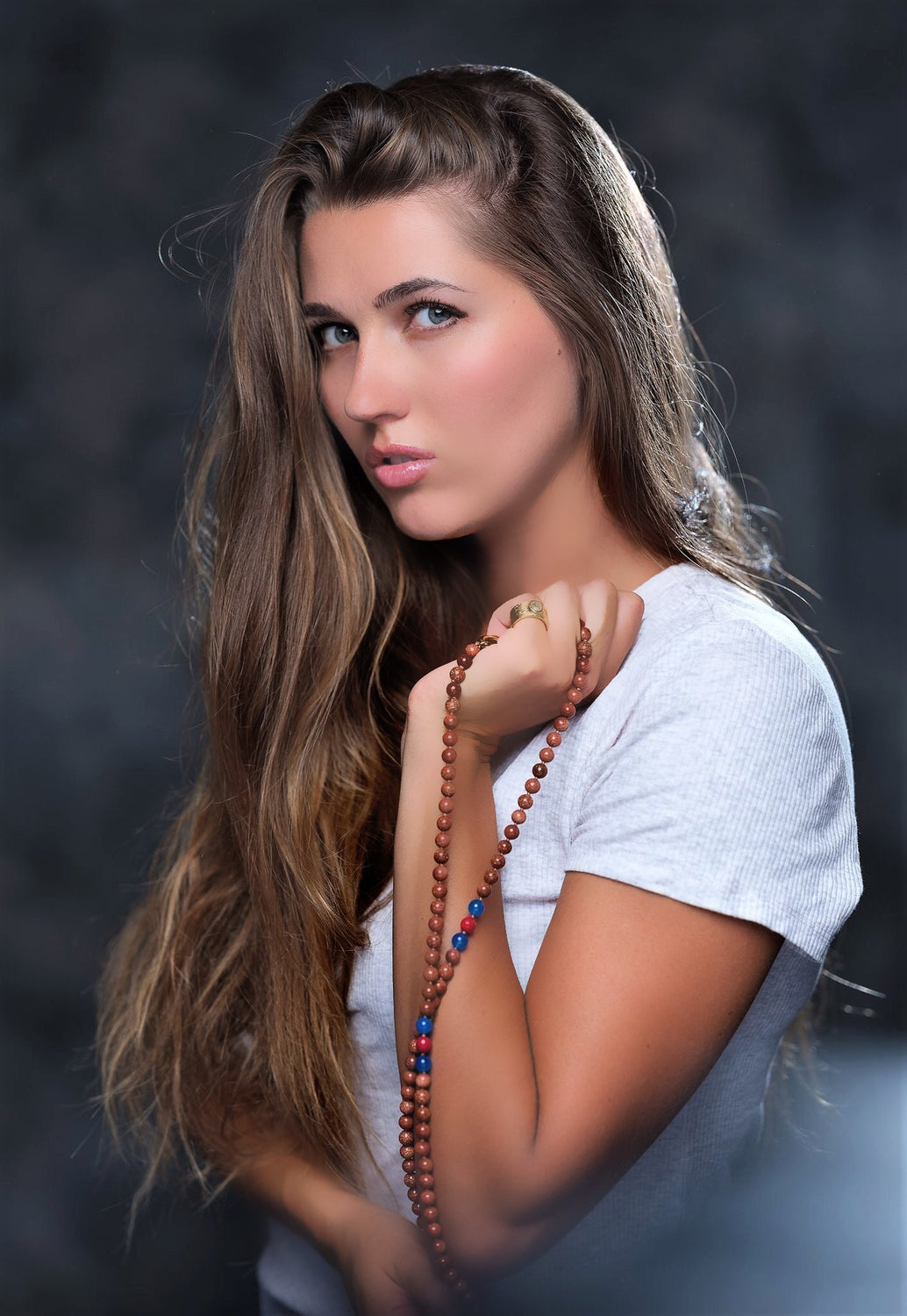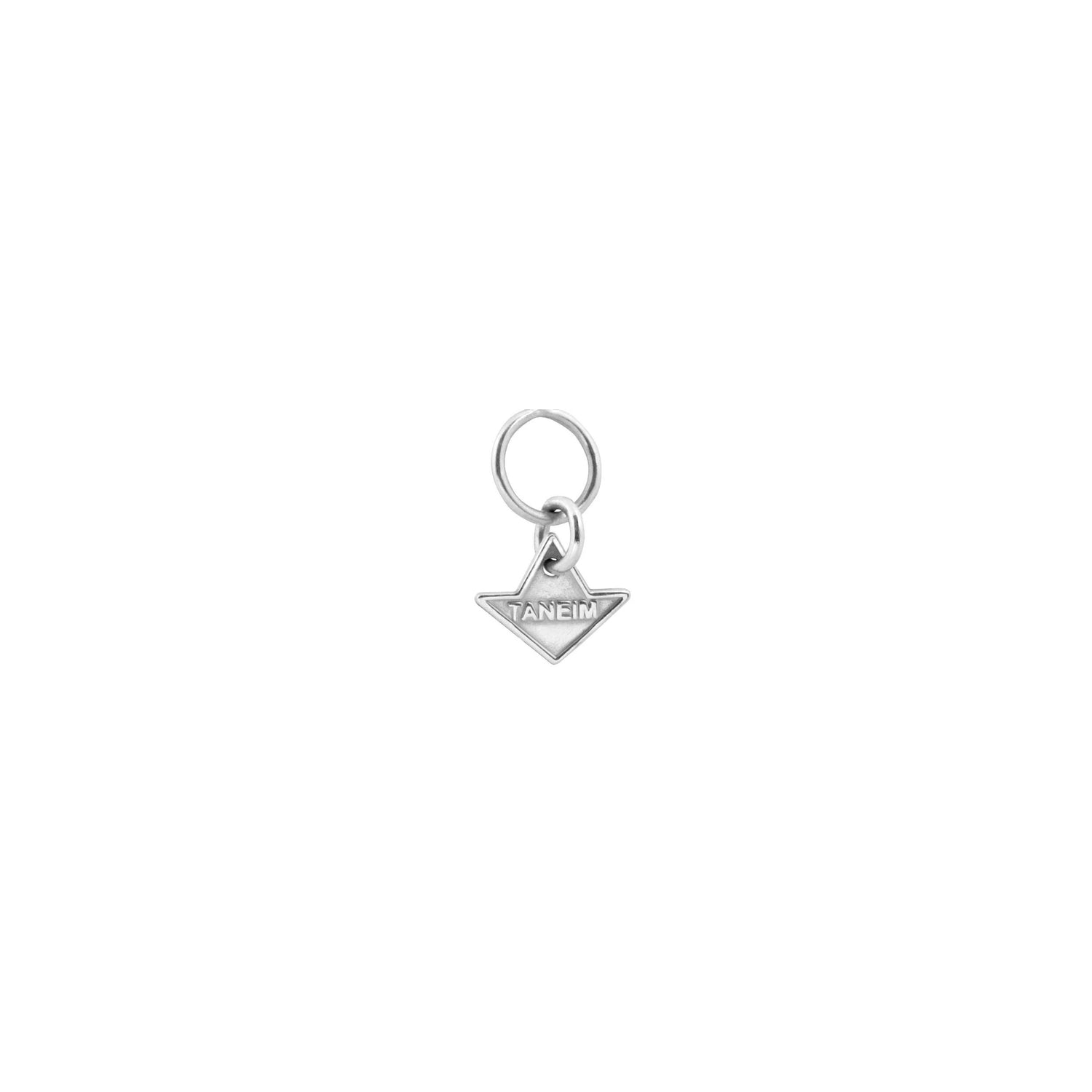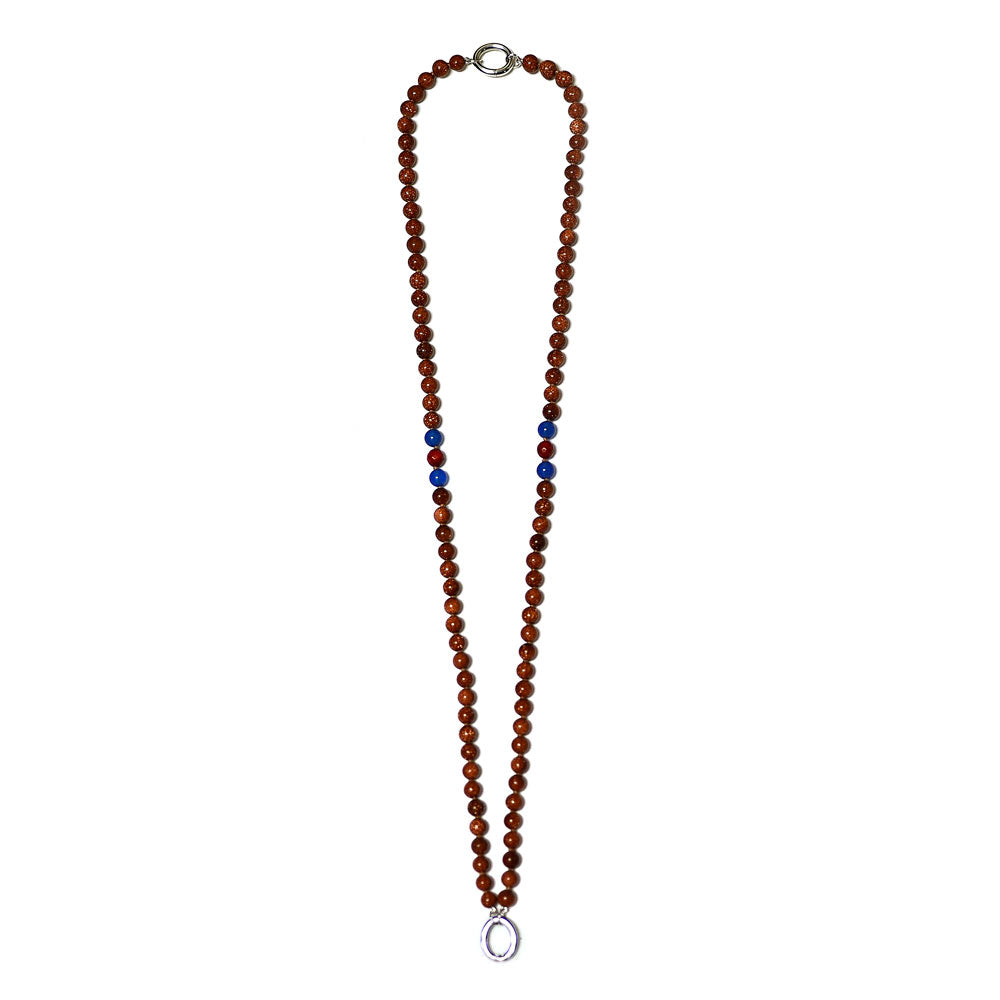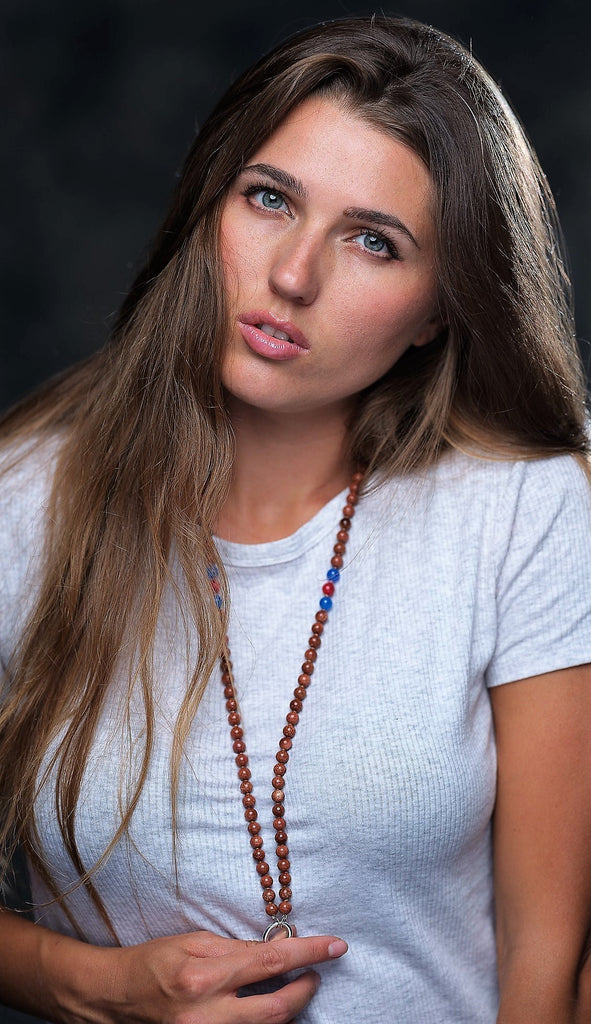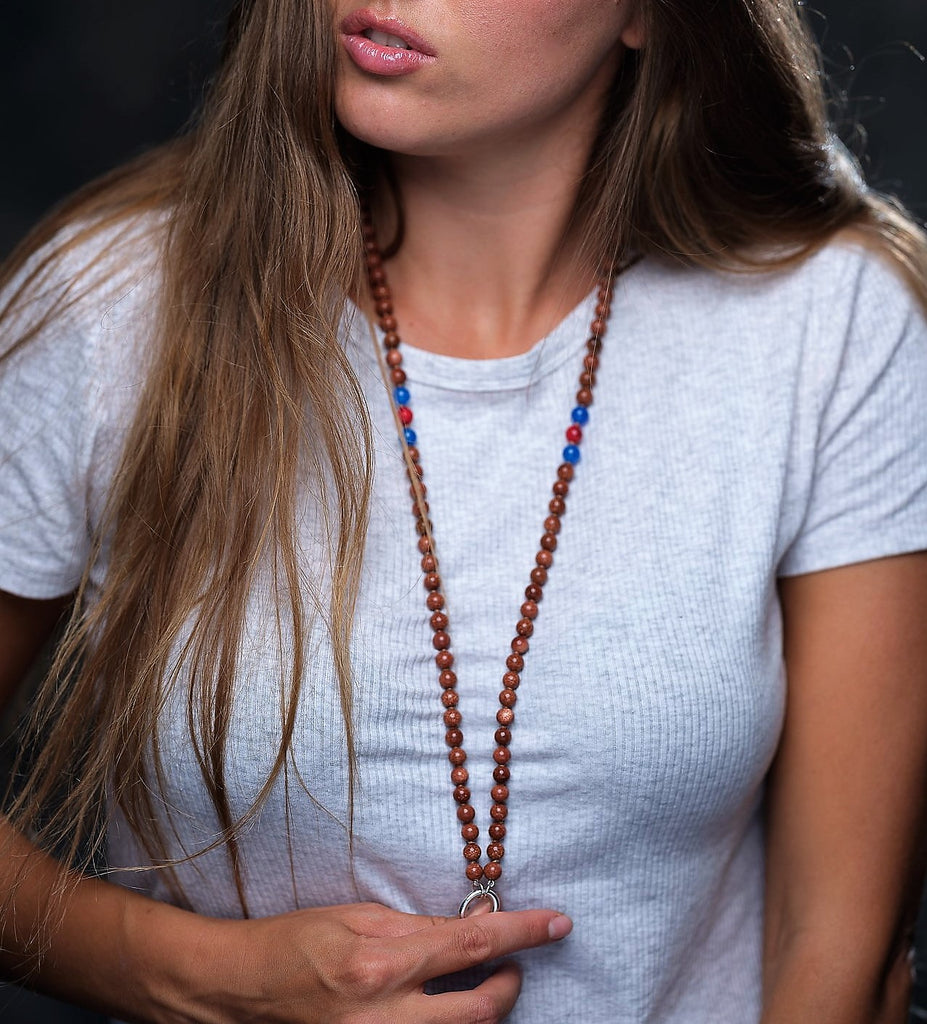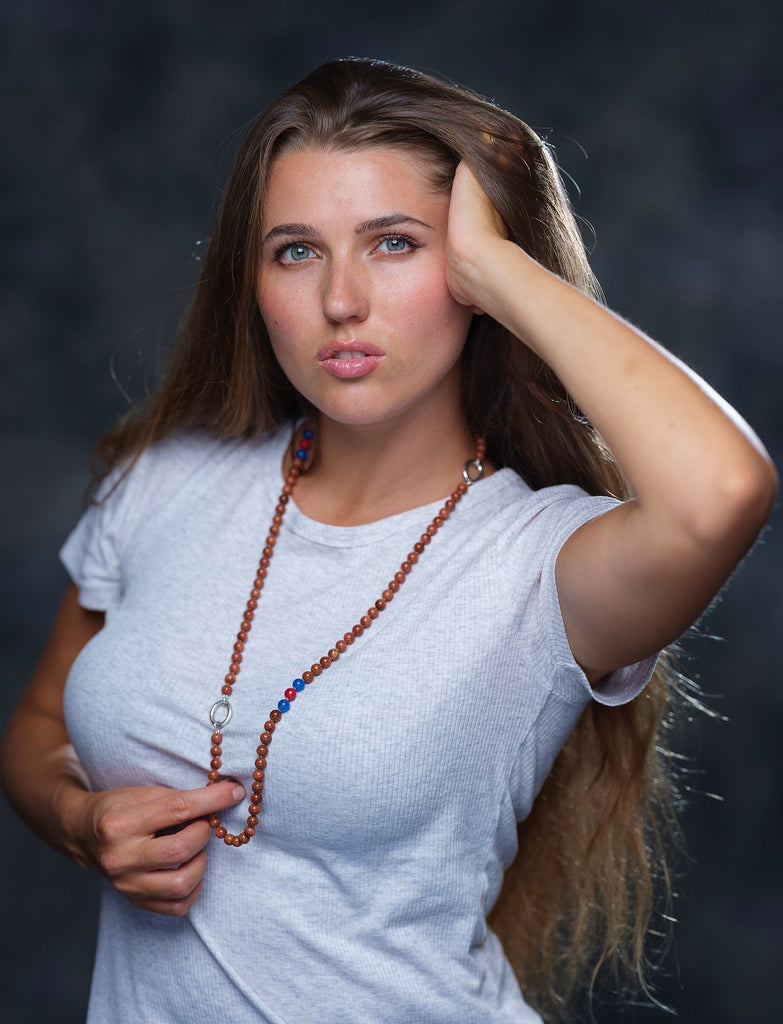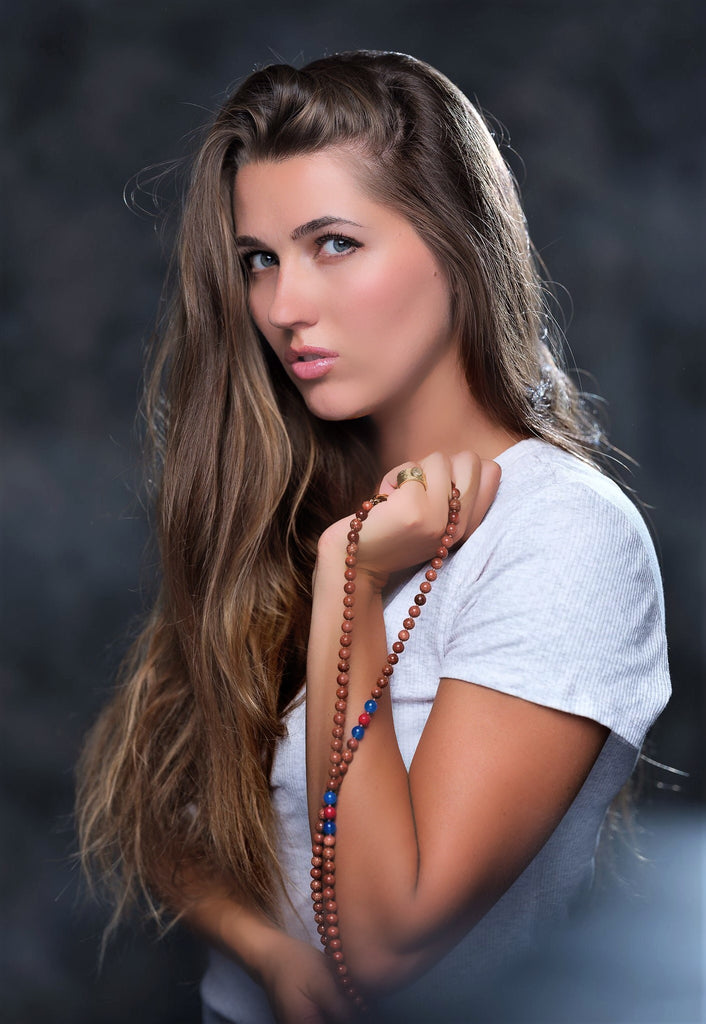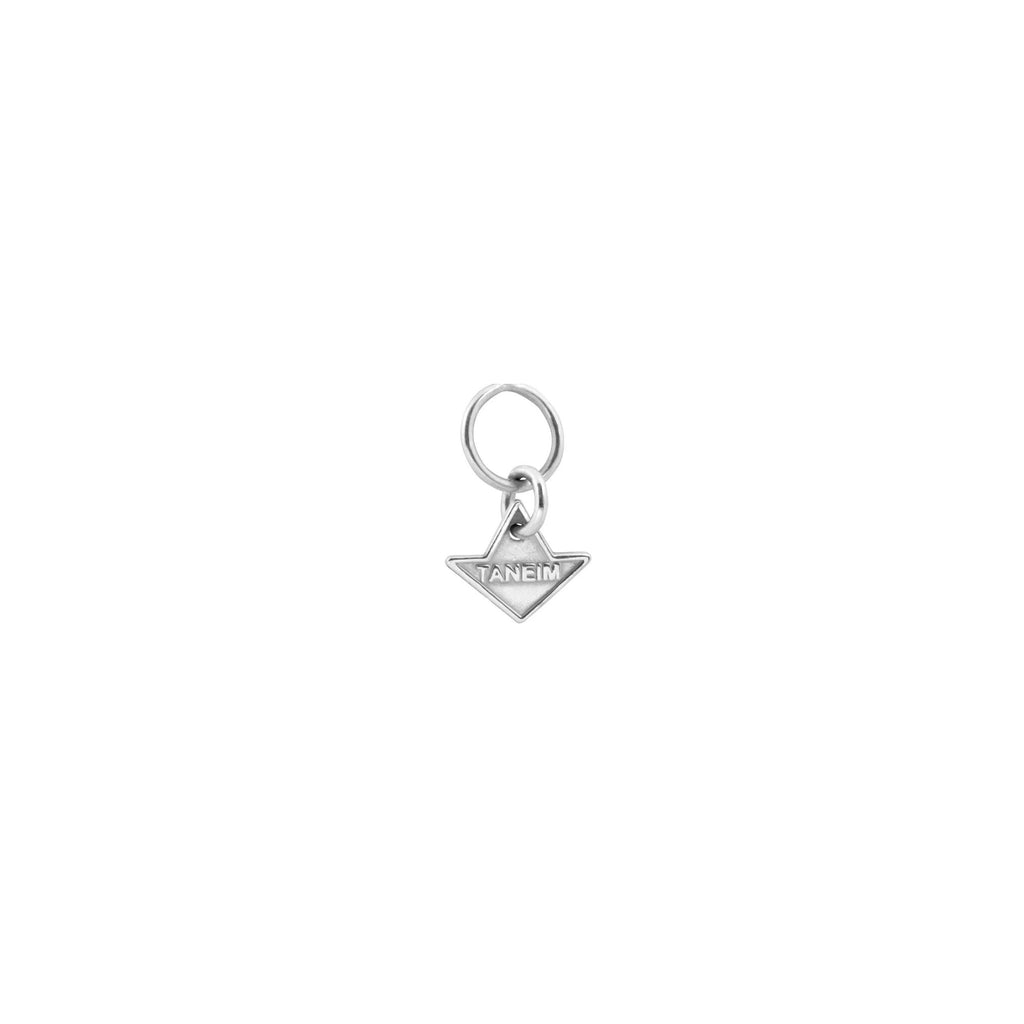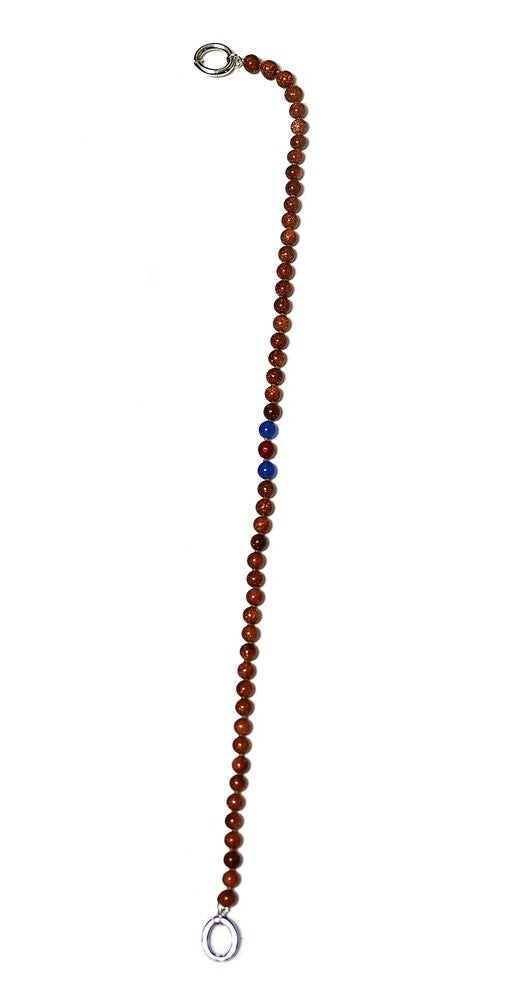 On Sale
B925 SILVER BROWN BEYOND GEM UNISEX NECKLACE - GIFT 11
Gemstones: (92) Brown Sand Stone (4) blue agate (2) red coral
Gem Shape: Round smooth Round smooth round facet
Metal: 925 high polished silver and rhodium plated
Professional handmade

Gift box

Taneim ID Certificate of Exclusivity

Made in USA

Natural Gemstones
Some kinds of gemstones could be heated (OR) treated

Each gem line made with Taneim Star
 Each Taneim Star is Numbered and comes with the Special Register Card
The necklace is fashion and spiritual, that's why i would love to share some additional gems information of that masterpiece
Gold sand stone
Gold stone Healing Properties
Gold stone is actually a man-made stone.  Its sparkle is due to flecks of copper in gold Gold stone, and cobalt or manganese in blue Gold stone.
Gold stone is said to be the stone of ambition.  It builds energy, courage and a positive attitude.  Increases drive and confidence.  A gently uplifting stone, Gold stone promotes vitality.
Gold stone helps to reduce stomach tension and benefits arthritic conditions.  It is helpful to bones, painful joints and circulation.
Sandstone is basically sedimentary rock composed of grains of sand, which are then cemented together by either quartz (silica), calcite, feldspar or clay. Colors range from white, cream, and tan to deep browns and reds (sometimes purples and pinks!). The presence of iron or manganese oxides creates the lovely reds, yellows and rusty-browns of some sand stones.
Because Sandstone is created by either wind or water, it is often called a "stone of creativity". It strengthens relationships within groups, both at home and the workplace. Use Sandstone to keep you from getting distracted, especially during mediation. A cheerful stone, Sandstone keeps those annoying tantrums and mood swings under control. When used on the Sacral chakra, Sandstone can help you discern the truth among those around you and to keep your mind clear when making decisions.
Physically, Sandstone can help strengthen bones, nails and hair. It is also helpful with disorders of the eyes as well as water retention.
Blue Agate
Helps our inner atonement and deepen our focus. It helps us find our right path and remain on it against all odds. It has been called the Stone of Peace and Healing. They can help to help calm and relieve stress, helping created peace in the area where it is located. Help neutralize negativity from one's life, enhances self worth and boosts perceptiveness. Helps during mediation, aids access to the Angelic Realm and helps reduce lethargy. Also has all the properties of agate.
CORAL
Chemical Composition : Са(СО)3
Typical colors - Black, pink, red, white, blue
Absorbs negative energy
Platonic love
Friendship
Community
Creativity
Passion
Romantic love
Wisdom
Optimism
Enthusiasm
Balance
Relaxation
Protection
Safe travel on water
Coral represents diplomacy and concurrence.  It quiets the emotions and brings peace to within the self.  Facilitates intuition, imagination and visualization.  Coral expedites and accelerates the transfer of knowledge.
Coral strengthens the circulatory system and the bones of the body.  It stimulates tissue regeneration and nourishes the blood cells.  Treats disorders of the spinal canal, the alimentary canal, the nervous system, and the thalamus.