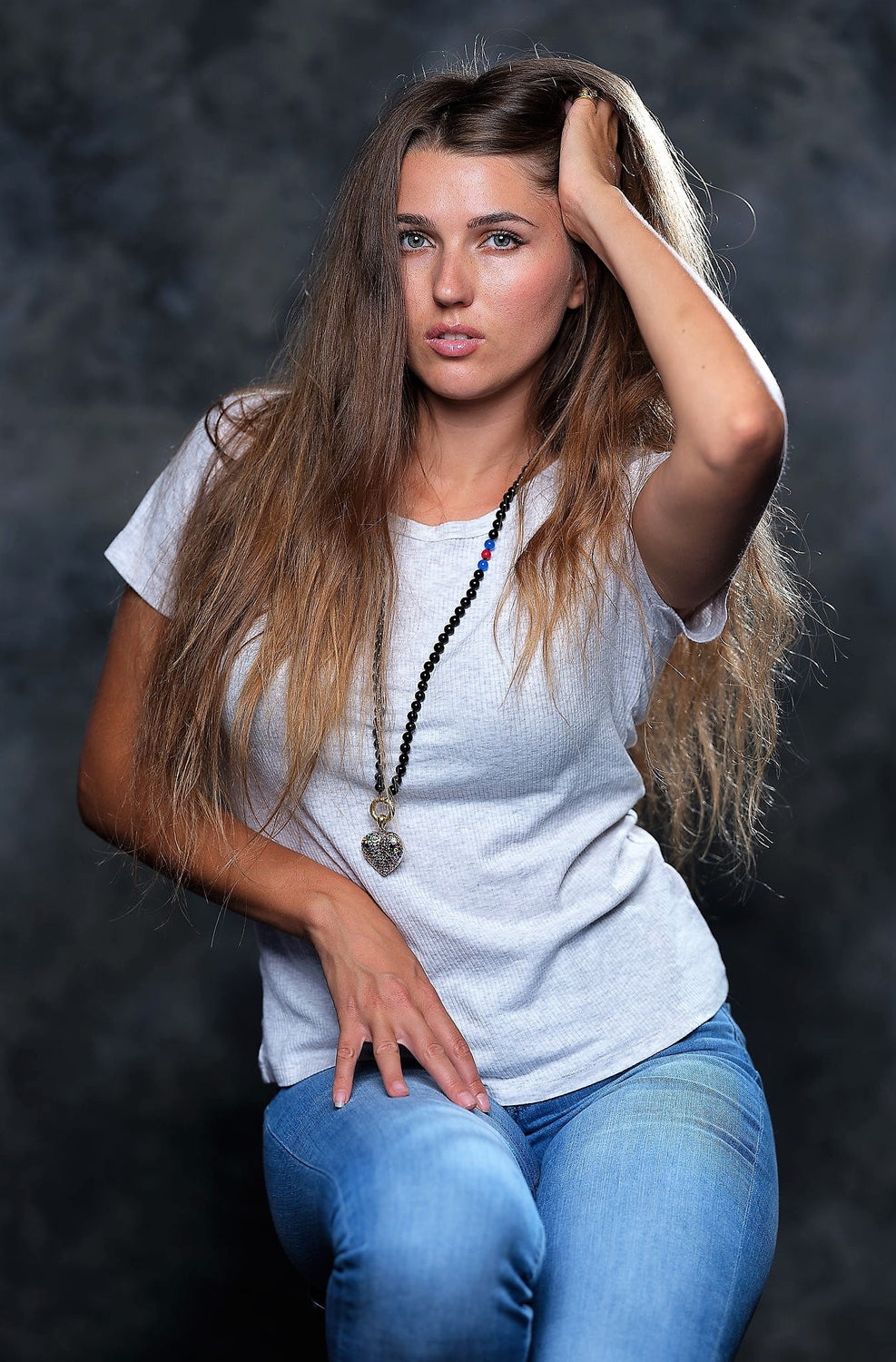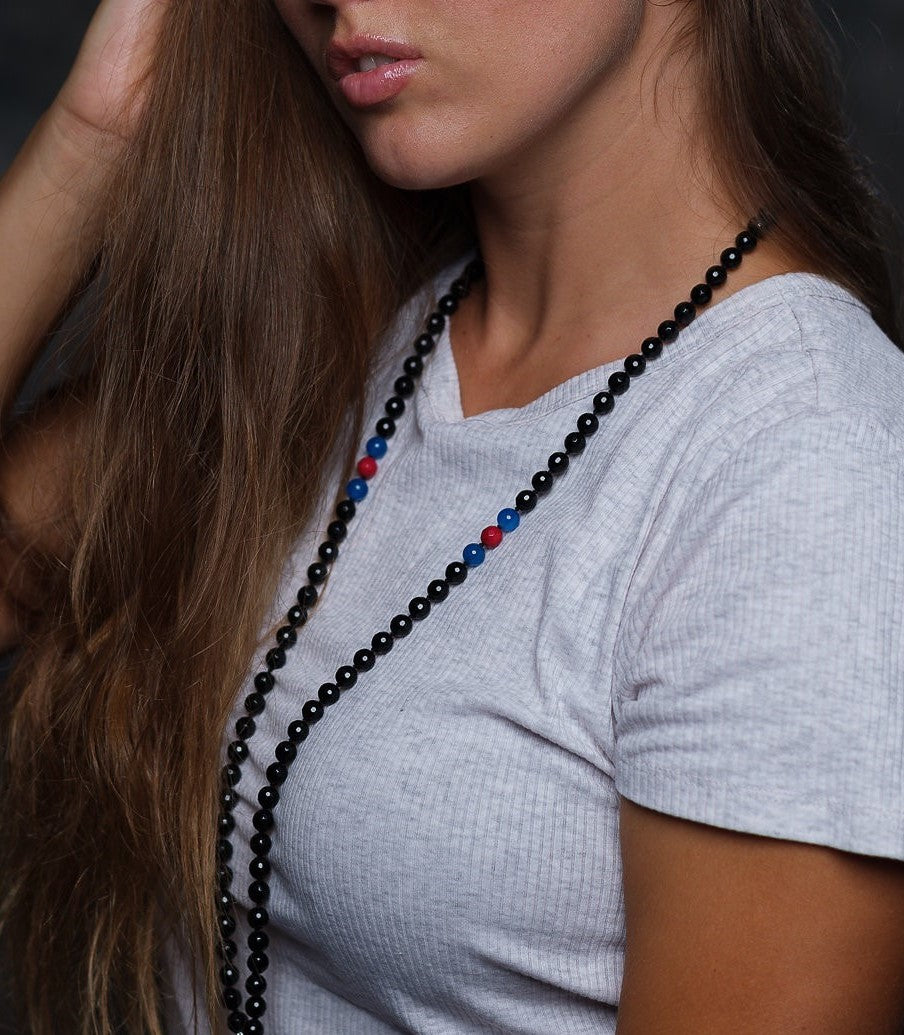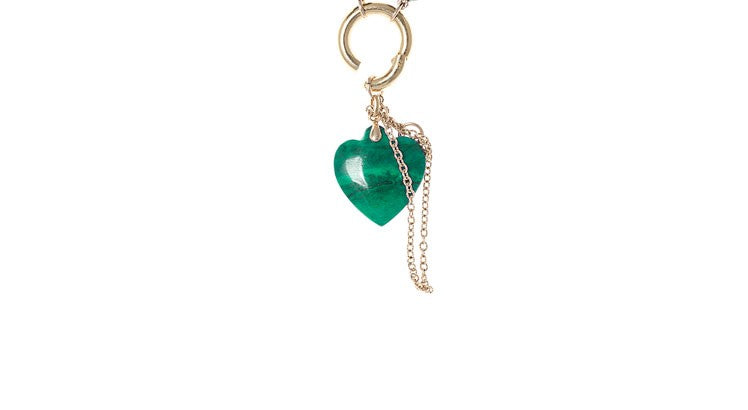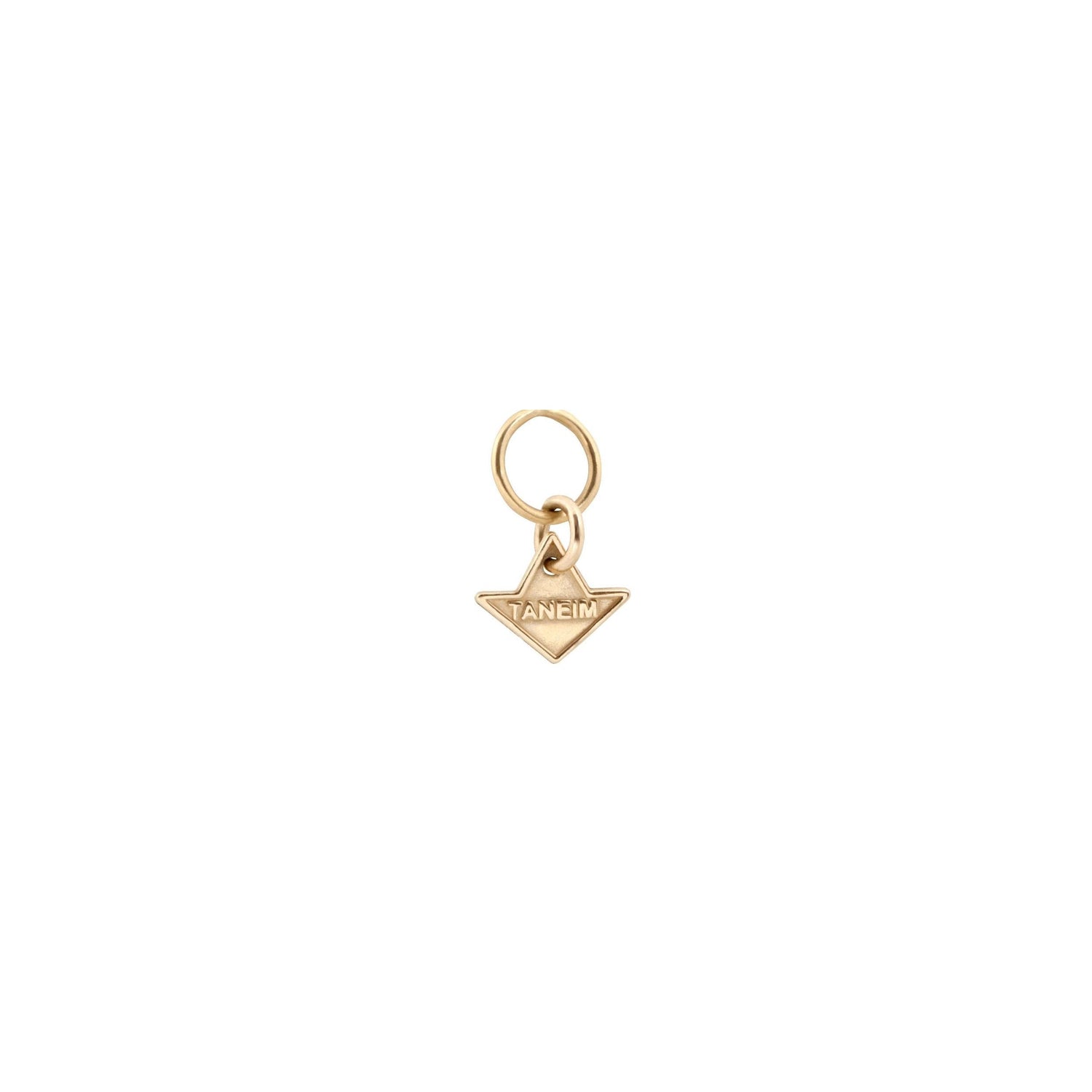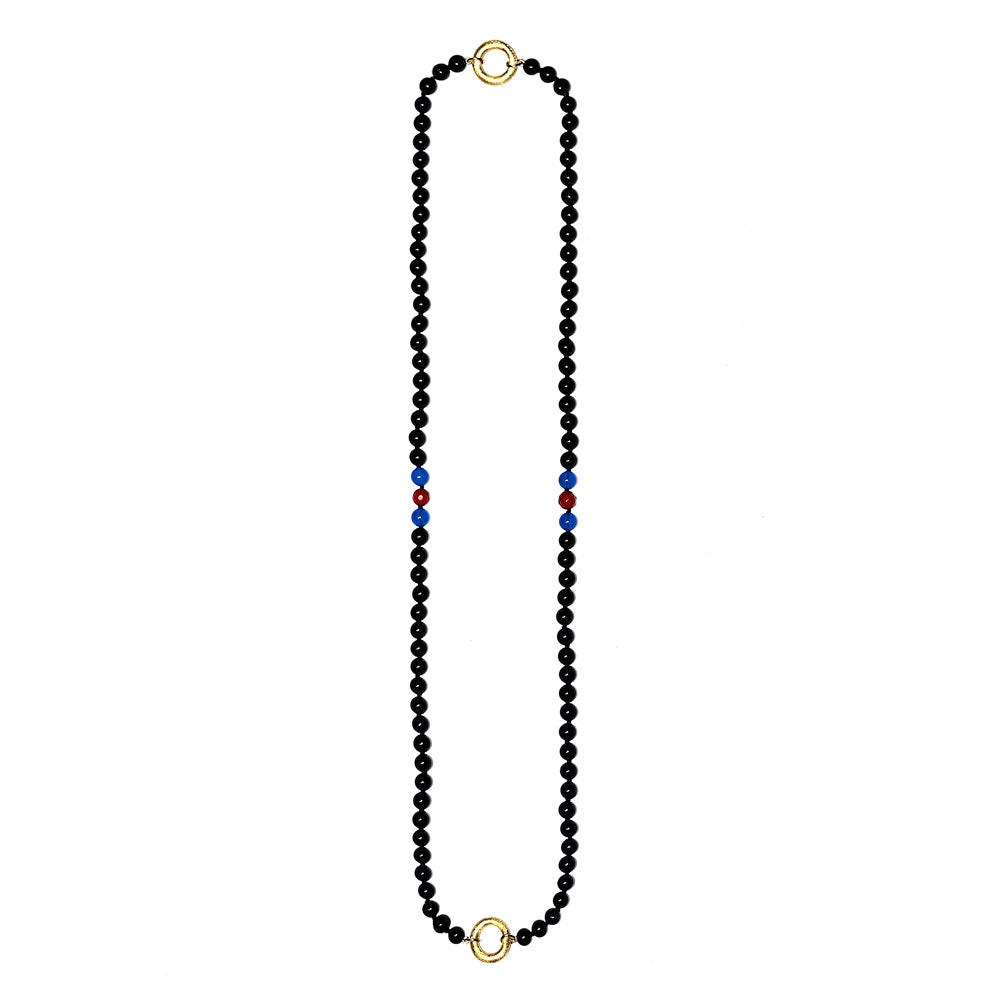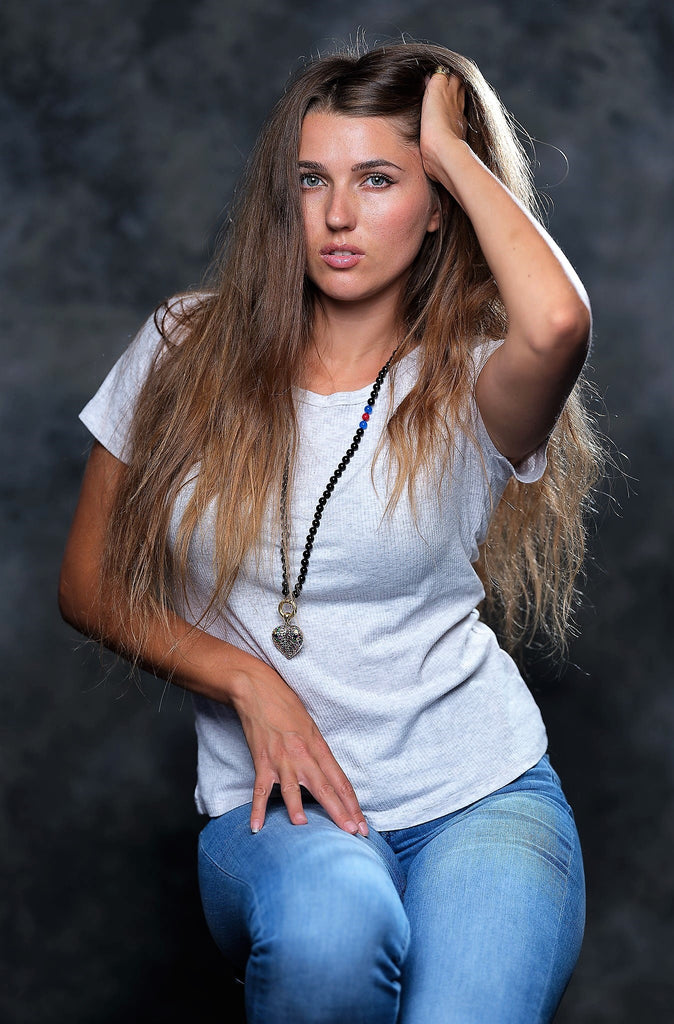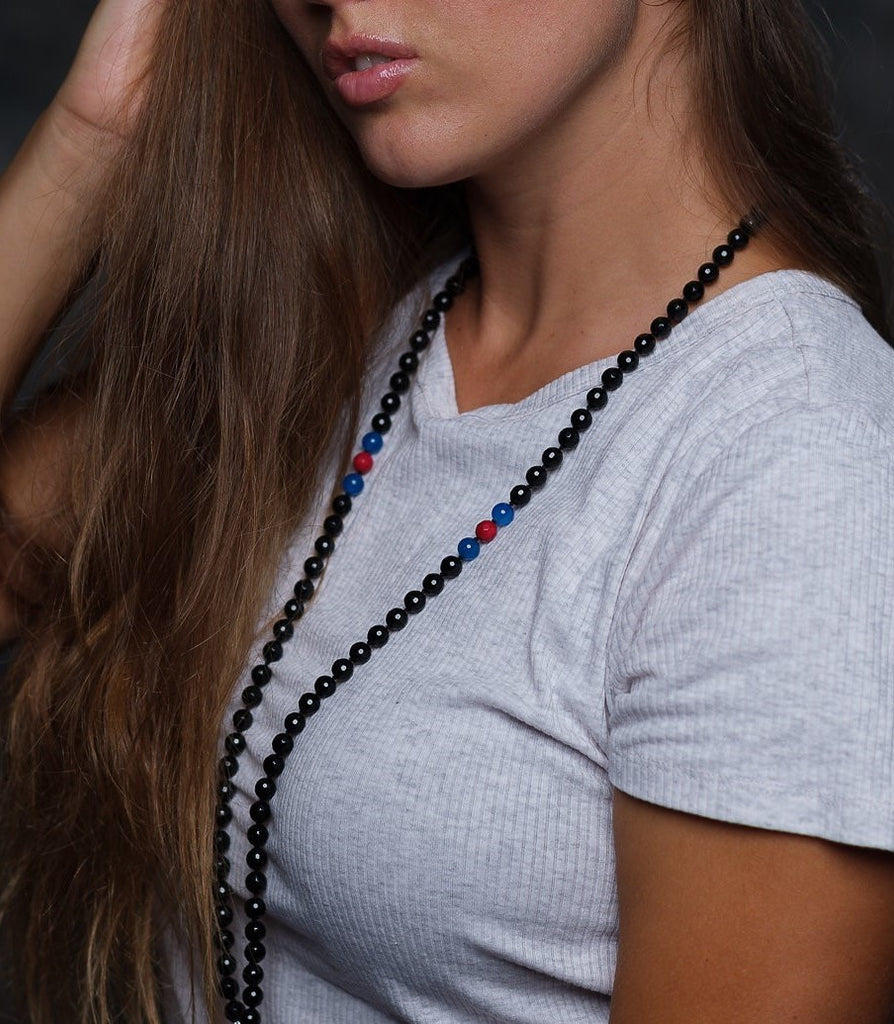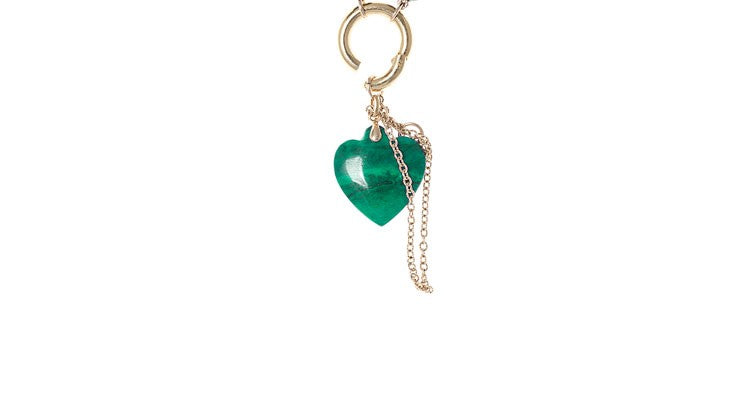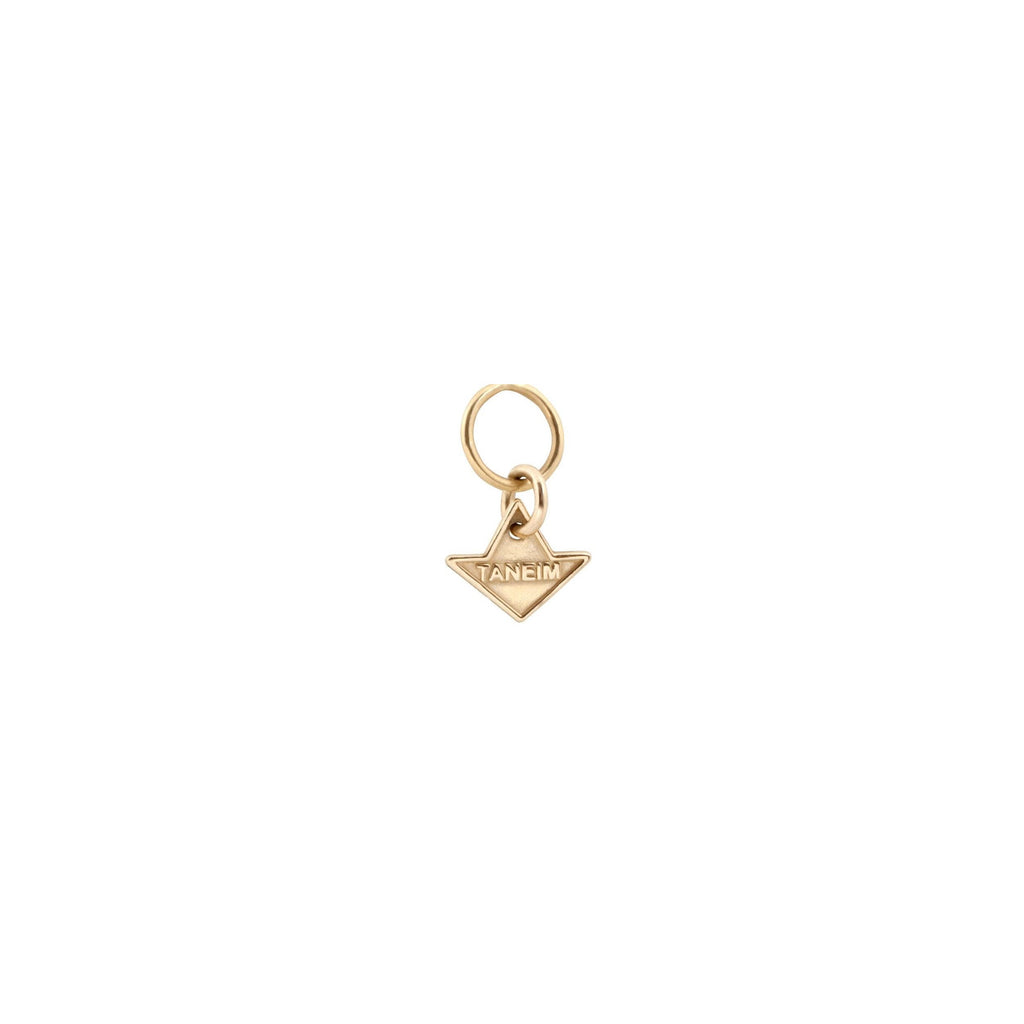 On Sale
14K OVER PLATED SILVER BLACK" GEM SPIRITUAL UNISEX NECKLACE - GIFT 11
"BLACK" Gem Necklace

Gemstones: (92) Black ONYX (or) Black Agate (4) Blue Agate (2) Red Coral

Gem Shape: Round smooth Round smooth round facet

Metal: 925 high polished silver gold plated

Professional handmade job

The necklace has gift box and certificate with exact gem weight and additional information

Natural Gemstones
Some kinds of gemstones could be heated (OR) treated

Each gem line made with Taneim Star
 Each Taneim Star is Numbered and comes with the Special Register Card
ONYX
Chemical Composition: SiO2
ONYX HEALING PROPERTIES:
Inner-Strength
Focused Attention
Willpower
Self Mastery
Discipline
Reason
Physical Level: Onyx can assist in building one's energy and boosting poor immune systems to improve overall health. Onyx is a fantastic gemstone for those enduring long tasks, lengthy work projects, and weightless. Onyx promotes self-care and improves self-worth as it facilitates the sense of satisfaction that comes with reaching one's goals.
Mental Level: Black Onyx is very useful for those who have trouble communicating, particularly helping to improve your public speaking ability, promote intelligence, and encourage spiritual inspiration. Providing strength support for the wearer, Onyx prevents you from draining of personal energy so you can remain mentally stable. Onyx also has a soothing quality that helps remove fear and release worries that consume your mind, allowing you to feel comfortable in your current state.
Emotional Level: Onyx is an excellent stone for releasing negative emotions, such as sorrow and grief. When such emotions are released, the universe is able to bring good fortune, helping one to recognize personal strength. Beautiful Onyx also helps in relaxation, facing various challenges in life, and particularly in situations where one suffers from a lack of life energy and exhaustion.
Spiritual Level: Onyx is said to be a mineral of higher thought and higher consciousness. It stimulates one's awareness on all levels and brings one to the understanding of their own essential nature. Onyx further promotes movement through one universal and personal mystery after another, bringing forth startling truths and memories plunging to the surface of one's conscious mind.
ONYX GEOLOGICAL INFORMATION:
Hardness: 6.5 to 7
Crystal System: Trigonometrical
Color: Black, Black and White, Red and White, Orange-Brown/Honey and White
ONYX METAPHYSICAL PROPERTIES:
Chakra Alignment: Base/Root
Numeric Vibration: Number 6
Astrological Association: Leo, Virgo, Capricorn
Agate
Chemical Composition SiO2 
Agate Healing Properties
Love
Abundance
Wealth
Good luck
Longevity
Acceptance
Courage and strength
Protection, security and safety
Balance
Harmony
Generosity
 Appreciation of nature
A natural form of silicon dioxide, Agate is a variety of Chalcedony.
Typical colors - Clear or milky white, white to grey, light blue, orange to red, black
Agate is an excellent stone for re-balancing and harmonizing body, mind and spirit.  It cleanses and stabilizes the aura, eliminating and transforming negativity.  Agate enhances mental function, improving concentration, perception and analytical abilities.  It soothes and calms, healing inner anger or tension and creates a sense of security and safety.
Agate heals the eyes, stomach and uterus; cleanses the lymphatic system and the pancreas; strengthens blood vessels and heals skin disorders.
CORAL
Chemical Composition : Са(СО)3
Zodiac – Taurus, Pisces
Planet - Mars
Typical colors - Black, pink, red, white, blue
Absorbs negative energy
Platonic love
Friendship
Community
Creativity
Passion
Romantic love
Wisdom
Optimism
Enthusiasm
Balance
Relaxation
Protection
Safe travel on water
Coral represents diplomacy and concurrence.  It quiets the emotions and brings peace to within the self.  Facilitates intuition, imagination and visualization.  Coral expedites and accelerates the transfer of knowledge.
Coral strengthens the circulatory system and the bones of the body.  It stimulates tissue regeneration and nourishes the blood cells.  Treats disorders of the spinal canal, the alimentary canal, the nervous system, and the thalamus.