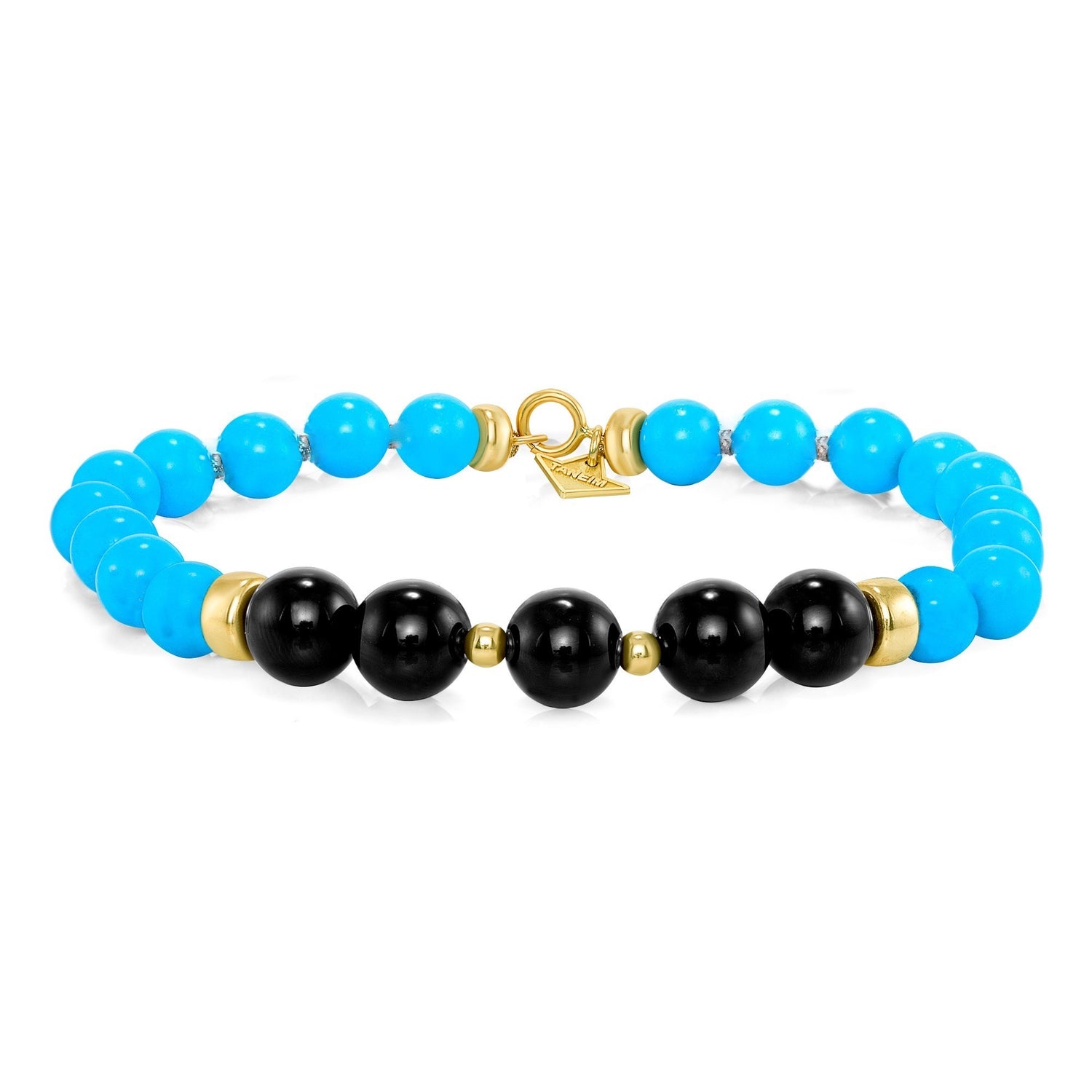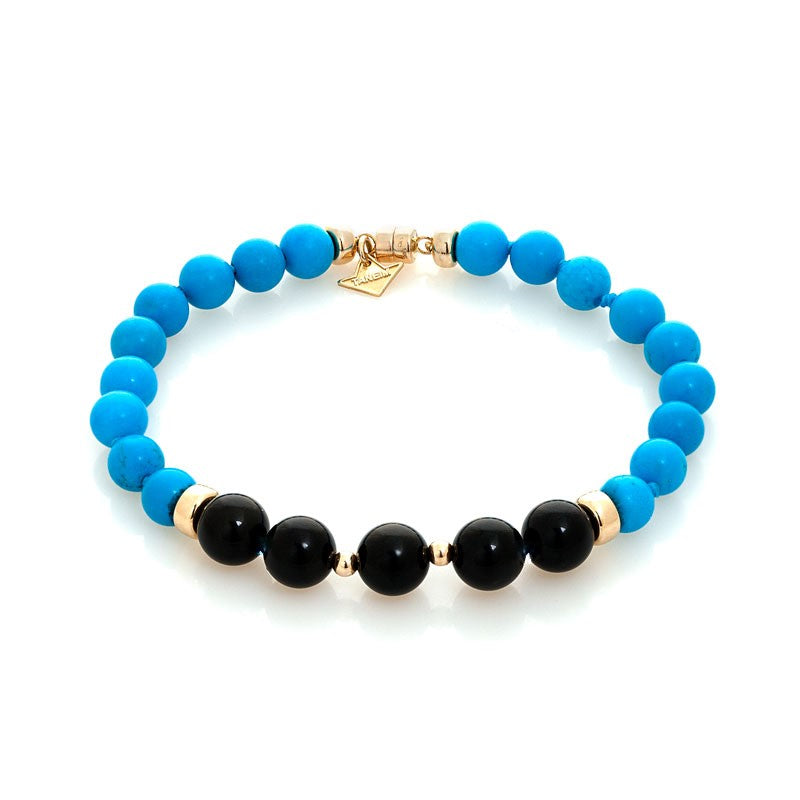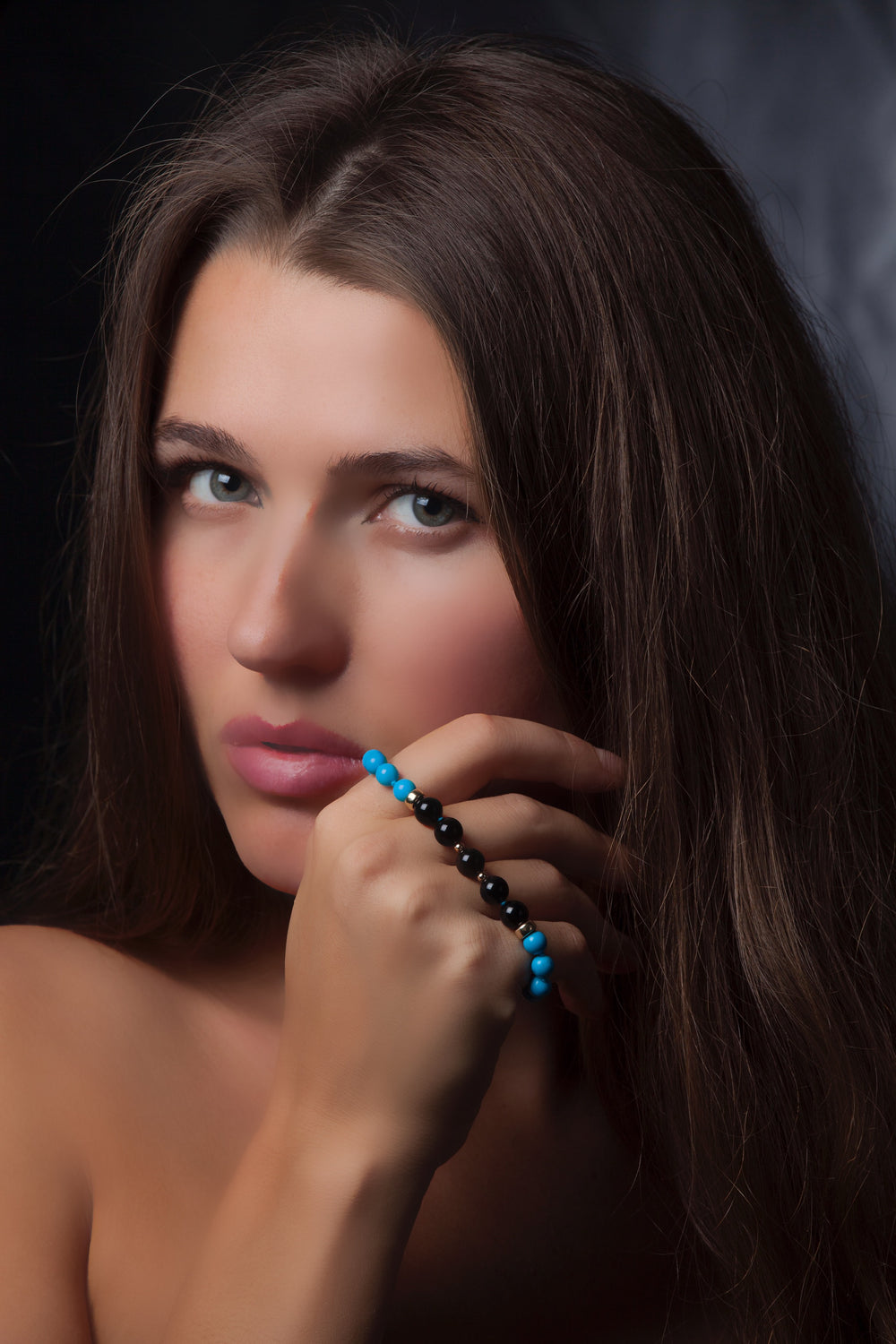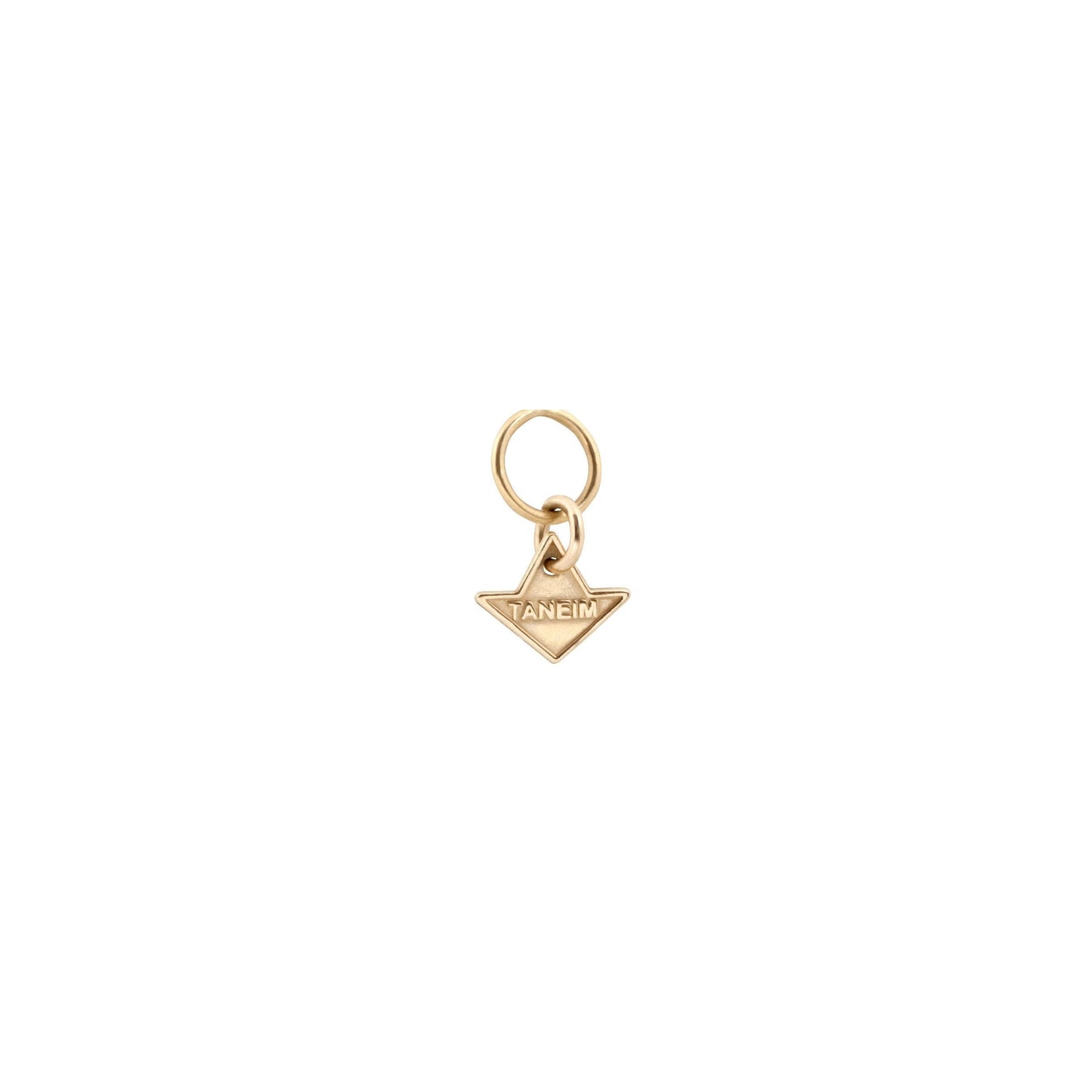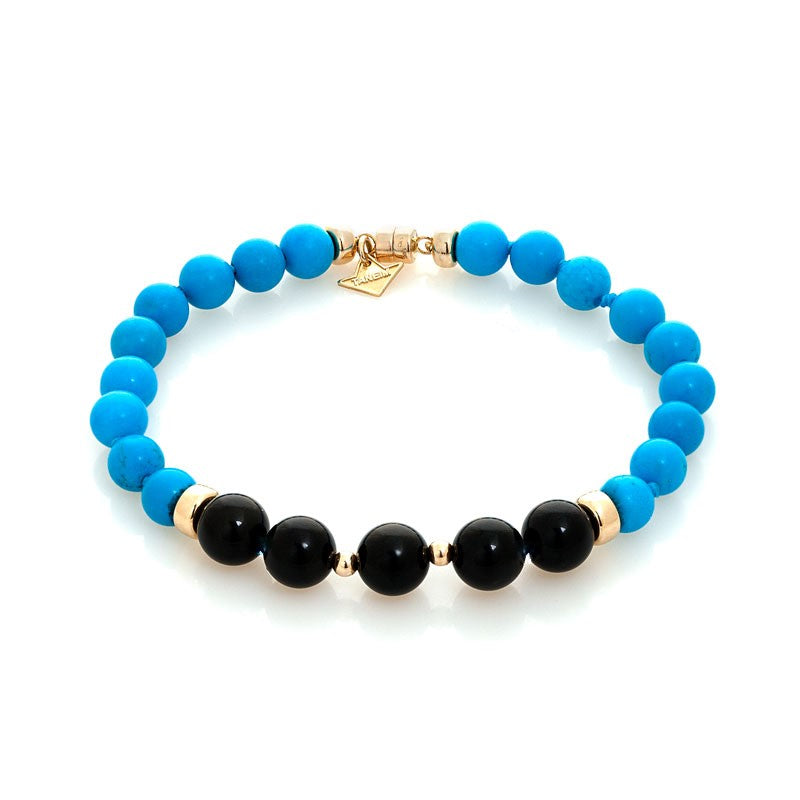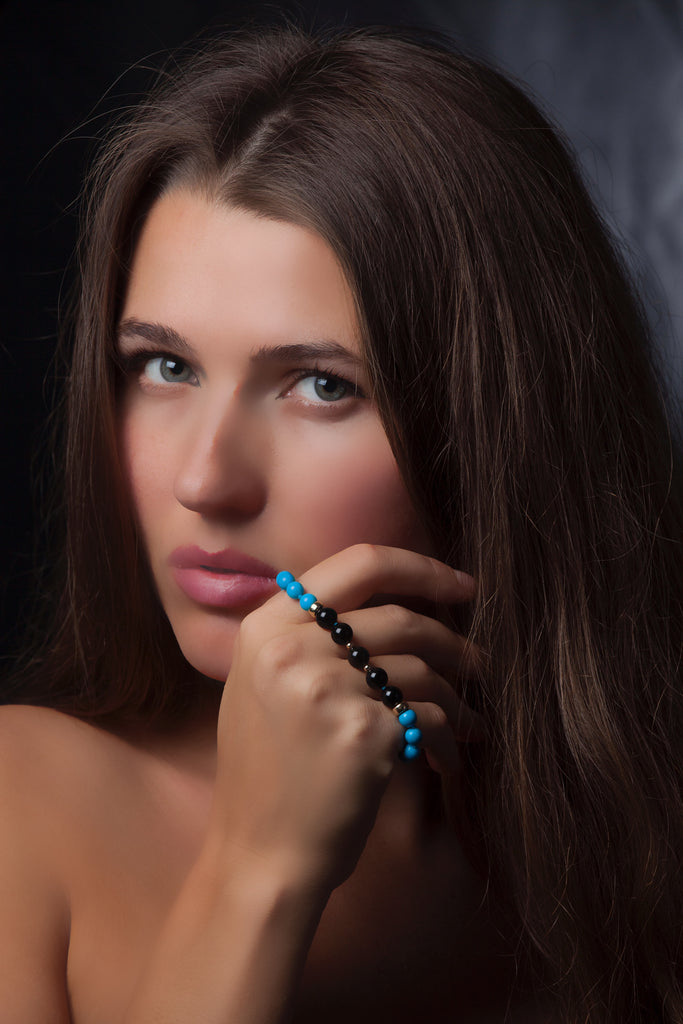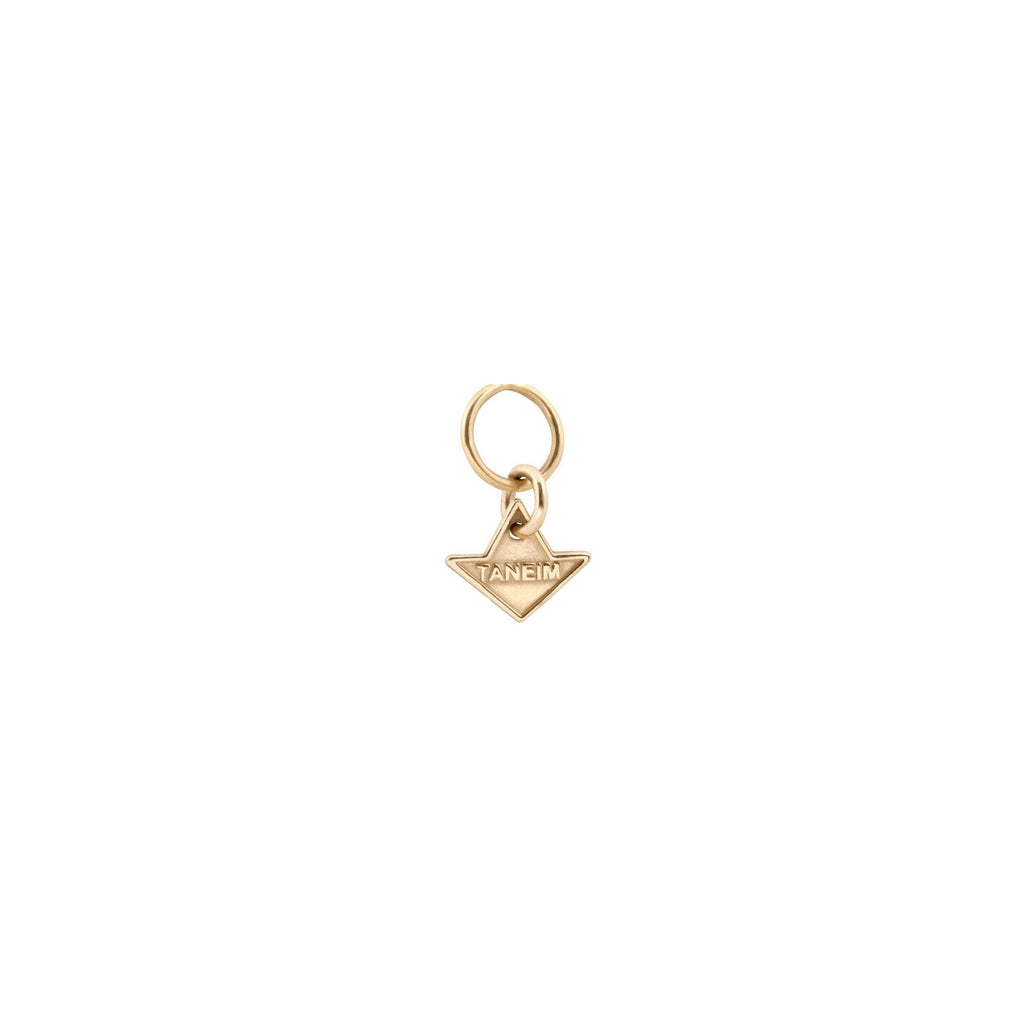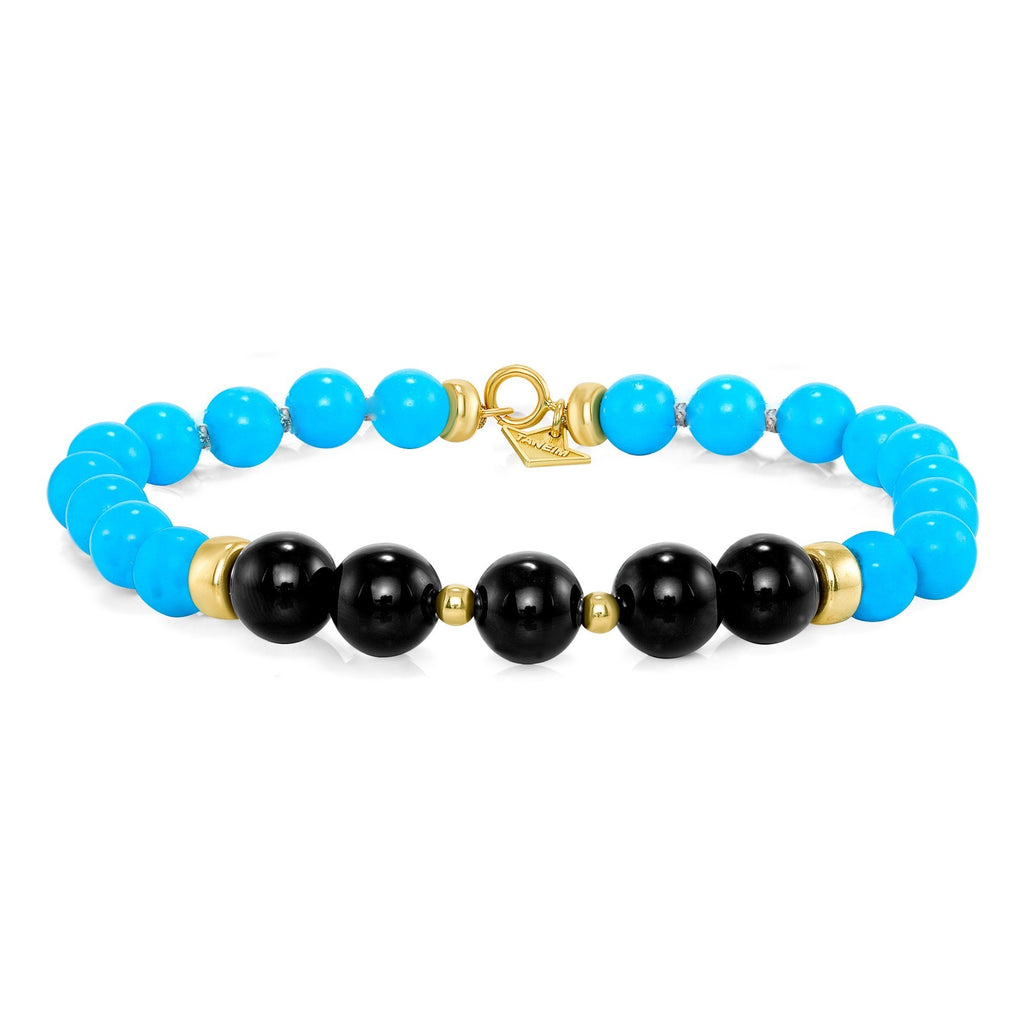 On Sale
14K & 18K YELLOW GOLD BEADED GEM BRACELET - THE TOUCH
"THE TOUCH" is tender touch on your hand of five black Obsidian and blue Magnesite. This collection it is colors and gem sizes combination made with 18k and 14k yellow gold . 
Bracelet: Touch "Black on Blue"  
Gemstones: (5) Black Obsidian (18) Blue Magnesite 

Gems carat total weight: 52.00 CT

Gems shape: Round smooth                                                           

Metal: 18K and 14k Yellow

gold

Professional

handmade

Gift box

Taneim ID Document

Natural Gemstones
Some kinds of gemstones could be heated (OR) treated

Made with Taneim Star
 Each Taneim Star is Numbered and comes with the Special Register Card
Magnesite
Chemical Composition: FeFe2O4
Magnesite Healing Properties
Relaxation
Visualization
Heartfelt love
Purification
Typical colors - Colorless, blue, white, pale yellow, pale brown, faintly pink, lilac-rose
Magnesite instills deep peace during meditation. Placed on the third eye, this stone enhances visualisation and imagery, and can promote dynamic and revolutionary ideas. It assists in producing an opening of the crown chakra. It also opens the heart chakra and stimulates heartfelt love.
Magnesite brings all forms of self-deceit to the surface. It brings grounding to the intellect and helps to recognize unconscious thoughts and feelings. It induces a positive attitude to life.
Magnesite brings a calming effect to the emotions, promoting tolerance for emotional stress. It supports people who are nervous and fearful and helps them to overcome irritability and intolerance.
Magnesite aids in the absorption of magnesium in the body. It purifies and detoxifies the cells and assists in the treatment of convulsions by acting as a muscle relaxant. This stone can help to neutralize body odor, and treats PMS, stomach, intestinal, and vascular cramps, as well as the pain from gallbladder and kidney stones. Magnesite treats bone and teeth disorders and can be used to both stimulate and soothe the heart and associated arteries. It regulates body temperature, lessening fevers and chills.
OBSIDIAN
Obsidian Healing Properties
Male stone, good in business for women
Purification
Transformation
Fulfillment
Metamorphoses
Manifestation
Practicality
Psychic ability
Obsidian is a volcanic glass.
Typical colors - Black, silvery or brown
Obsidian is truth-enhancing.  A strongly protective stone, it forms a shield against negativity.  It blocks psychic attack and absorbs negative energies from the environment.  Obsidian draws out mental stress and tension.  It stimulates growth on all levels, urging exploration of the unknown and opening new horizons.  Brings clarity to the mind and clears confusion.  Helps you to know who you truly are.  Obsidian dissolves emotional blockages and ancient traumas.  Promotes qualities of compassion and strength.
Obsidian aids the digestion and detoxifies.  It reduces arthritis pain, joint problems and cramps.  Warms the extremities.
In addition to the generic healing properties of Obsidian, specific colours and types have additional attributes:
Black Obsidian
Chakras – Base Chakra
Black Obsidian is a very powerful and creative stone.  It increases self-control.  It forces facing up to one's true self.  Releases imbalances and negative energies.  Black Obsidian is protective and provides support during change.  It repels negativity and disperses unloving thoughts.